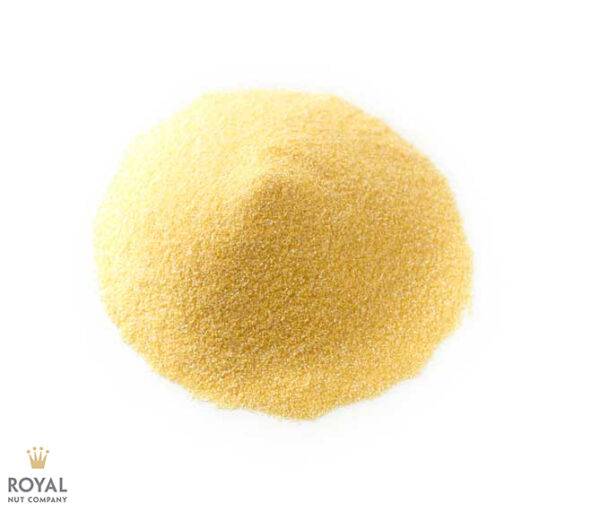 Coarse Polenta
$4.00
Polenta was a staple of the mighty Roman army, who ate it as a porridge or in hard cakes for quick yet sustaining energy. Even though bread was easily available in Ancient Rome, Italian peasants and Roman legions alike preferred the simplicity and tastiness of their beloved polenta. Polenta is a wonderfully appetizing reason to try a food that you've possibly never eaten. An Italian dish derived from cornmeal that is boiled to a paste, polenta can be served in a variety of ways, ranging from baking to frying. Some serve it up as a savoury side dish, but it certainly can be incorporated into smashing main-course entreés that will bring the entire house up for a standing ovation. Breakfasts, lunches, dinners, snacks, sweets and treats – there's almost no limit to how Polenta can be used!
Nutritional Info

| | | |
| --- | --- | --- |
| GRAMS PER SERVE | 50 | |
| SERVES PER PACK | 20 | |
| | PER SERVE | PER 100g |
| ENERGY | 770kJ | 1540kJ |
| PROTEIN | 4.3g | 8.6g |
| FAT, TOTAL | 0.6g | 1.2g |
| SATURATED | 0.1g | 0.2g |
| CARBOHYDRATE | 39.4g | 78.8g |
| SUGARS | 0.2g | 0.4g |
| SODIUM | 0.25mg | 0.5mg |

Ingredients

Corn

Country Of Origin

Product of Australia

Storage Instructions

Store in a cool dry area away from direct sunlight

How To Use

When cooked, it has a soft, creamy texture, like rich, smooth mashed potatoes. It can also be cooled to form a solid block that can be cut and eaten hard. It makes a great side dish for meat and can be substituted in place of potatoes, rice or other grains. Polenta has a great yield, making four cups cooked from one cup of dry polenta. To cook, bring three cups of water to the boil, then slowly add one cup of polenta while stirring constantly to prevent lumps from forming. Cook over low heat stirring frequently for the first 10 minutes, then cook for a further 15, or until the grains feel soft when rubbed between the fingers. Polenta has a tendency to splatter when being cooked, so take care not to get in the firing line! It can also be cooked in stock to impart more flavour. If you prefer hard polenta, simply spoon the cooked creamy mixture into a tray and allow to cool. It can now easily be cut and eaten as is, or grilled or fried to give it a richer flavour and beautiful golden colour.