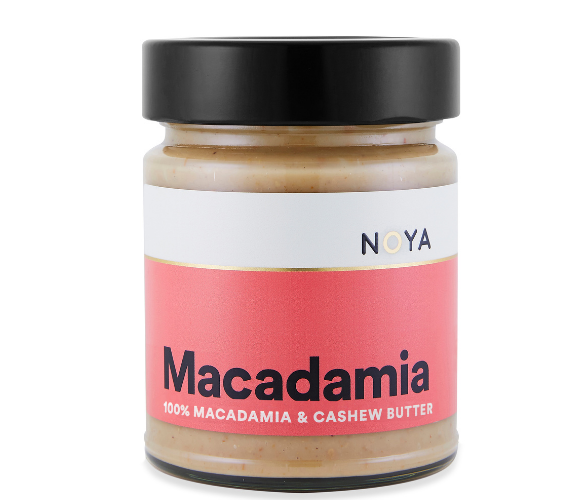 Macadamia Noya Nut Butter
From: $8.50
An Australian native, it's the finest spread in all the lands. Just ask it. Australian-grown premium macadamias are hand-picked, lightly dry-roasted, and crushed into a deliciously silky, naturally sweet macadamia nut butter. Nutritiously addictive and incredibly smooth, you'll melt into bliss when it melts in your mouth. Make friends with this spread, you'll want to keep it close.
Nutritional Info

| | | |
| --- | --- | --- |
| GRAMS PER SERVE | 30 | |
| SERVES PER PACK | | |
| | PER SERVE | PER 100g |
| ENERGY | 860kJ | 2870kJ |
| PROTEIN | 4.4g | 14.8g |
| FAT, TOTAL | 19.6g | 65.2g |
| SATURATED | 3.3g | 11g |
| CARBOHYDRATE | 2.3g | 7.6g |
| SUGARS | 1.8g | 6.1g |
| SODIUM | 3.3mg | 11mg |

Ingredients

Macadamia (90%) cashews (10%) (lightly dry roasted). Did you know that Macadamia nut butter is naturally a more runny/oily spread than the other tree nut butters?To create the perfect texture for our Macadamia nut butter, we add a tiny bit of Cashews (15% to be exact) into this nutty elixir, so the consistency is just right. Why Cashews… you may ask?You probably noticed that your NOYA jar contains a beautiful golden oil at the top. Did you know that this nutrient-packed oil comes naturally from the nut? Yes! Nuts release their oil when crushed so the separation that you see in your jar is completely normal. The crushed Cashews act as a natural emulsifier making the consistency of our Macadamia nut butter smooth and dreamy! Without the Cashews, the oil separation will be more pronounced, and it would be a little too runny to spread or to spoon. NOYA is made from 100% nuts. We're opposed to using any additives or add any hydrogenated oils to bind our spreads together. The original smooth, creamy flavour of the Macadamia isn't compromised by doing this, as Cashew is the most versatile, blend-friendly nut. You can taste it for yourself... We know that you'll love it and keep coming back for more!

Health Benefits

To keep our bodies healthy, minds happy, we need 30g of nuts every day. That's just one heaped tablespoon of Noya Nut Butter. Source of magnesium for a boost of energy to keep you kicking, spreading, and creating. Source of potassium for those feel good, feel full sensations, and is naturally low in sugar and sodium. Natural source of healthy fats for vitality, to keep you fuller for longer, and provide your body with energy and fuel to satisfy 3pm cravings and withstand evening workouts. Fibre for a healthy gut, and manganese for healthy, jar-opening bones. Source of thiamin essential for the production of energy from food, to keep you active. Source of fibre to promote healthy bowels, to keep everything moving like it should. NOYA Tick List All natural Gluten free Dairy free Paleo friendly Vegan friendly No added sugar, salt, oil, additives or preservatives Source of fibre Source of magnesium and potassium Rich in healthy fats Trans fat free Naturally low in sugars and sodium Contains antioxidant manganese Don't just spread the nut; scoop it.1 heaped tbsp. contains: 42mg Magnesium (13% of an adult's recommended dietary intake) 1.2mg Manganese (23% of an adult's recommended dietary intake)

Country Of Origin

Made in Australia with at least 90% Australian ingredients

Storage Instructions

Store in a cool dry area away from direct sunlight

How To Use

Straight from your spoon, or alternatively... Smoothed over fruit toast. Blended in a chicken or prawn marinade. Stirred in chocolate mousse or cheesecake. Or both.