BLACK RICE RAINBOW SALAD WITH HAZELNUT DRESSING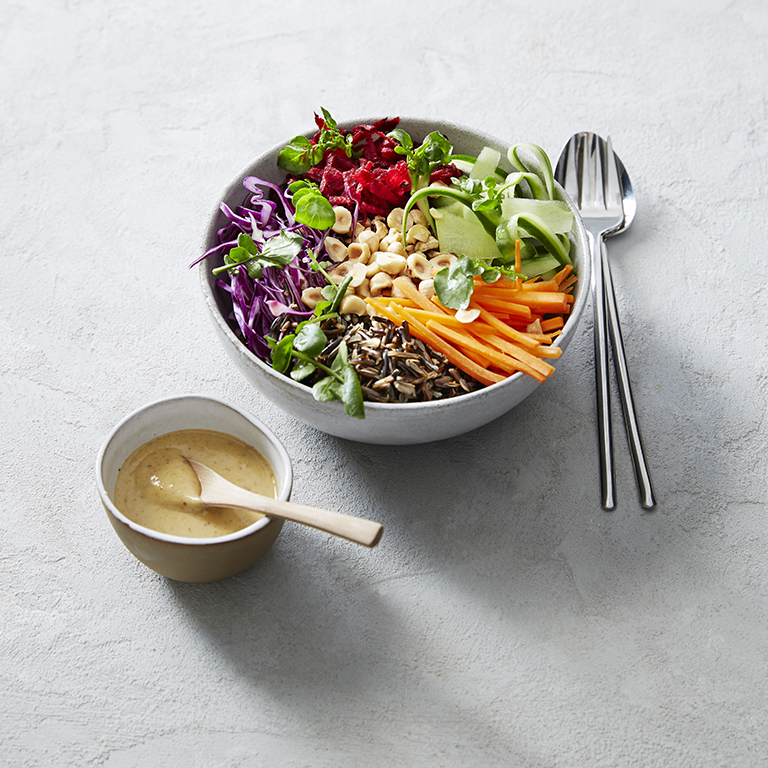 Ingredients
60g/ 'Öìwild black rice
1 cup water
150g/1 large carrots
200g/2 Lebanese cucumbers
150g/ ½ a small red cabbage
50g raw beetroot, grated
1 small bunch of watercress
25g/1 tbsp dijon mustard
30ml/2 tbsp lemon juice
70g/2 tbsp hazelnut butter
60ml/2 tbsp extra virgin olive oil
70g/ ¼ cup crushed roasted hazelnuts
Foodie Facts
Black rice is a good source of antioxidants – a substance known for helping individuals flush out body wastes on a regular basis.
Method
Put the wild rice and the water in a pot and bring to the boil, once it starts boiling, turn the heat to a simmer then cover and cook for a further 30-45minutes or until the rice grains start to burst, then set aside.
Slice the cucumbers into long ribbons using a peeler or mandoline rotating the cucumber to avoid the seeds.
Peel the carrots and slice them into 6cm lengths, then slice again lengthwise so that they resemble matchsticks, otherwise known as a julienne cut.
Quarter the red cabbage, removing the stalk, very finely slice the cabbage into thin strips using avery sharp knife
Wash the watercress in cold water and pat dry with a paper towel, pick through it and remove any thick fibrous stems, keeping only the tender parts.
In a small bowl, whisk together the dijon, lemon juice, hazelnut butter and olive oil until emulsified.
Gently toss the vegetables and the rice with the dressing in a large salad bowl until well coated and place in a serving dish.
Garnish with the roasted hazelnuts and enjoy!
Recipe by The Royal Nut Company.
Serves 1-2