CARROT CAKE WITH CASHEW CREAM CHEESE FROSTING, PISTACHIOS AND WALNUTS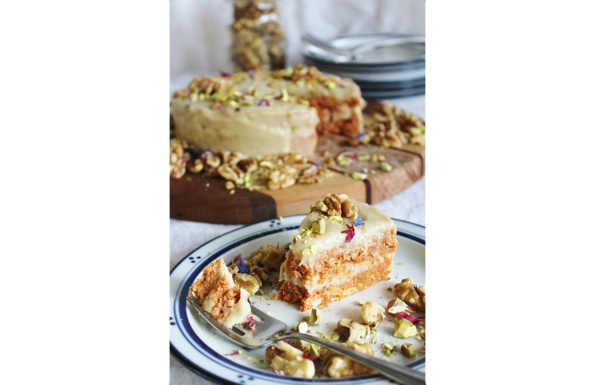 Ingredients
Cashew frosting:
2 cups cashews, preferably soaked for a couple hours Add to basket
1-2 tablespoon lemon juice
2 tablespoons liquid coconut oil Add to basket
1/3 cup maple syrup
Water, as needed
Cake:
Foodie Facts
Cashews contain iron to move oxygen around the body, zinc for a health immune system and copper and magnesium for healthy bones.
Method
To make the frosting: blend all ingredients in your high speed blender until smooth, adding as little water as possible. Taste it – mmm. Put in a bowl and set aside.
To make the cake: cut the carrots into small chunks. Then throw all the ingredients (including the carrots) in your food processor and pulse until it's all in really small pieces and sticks together.
Assembly: Press half the cake mix into the bottom of an adjustable spring-form pan, mine was about 6 inches. Then spread on about 1/3 of the frosting. Put it in the freezer until the layer of frosting is hard. Then press on the rest of the cake mix. I let it set in the fridge overnight, then frosted the whole thing, but you can do it right away if you want. Take it out of the pan and use theremainingfrosting, cover with whatever garnishes you like.
Enjoy!
Thank you to amazing Emily Von Euw for this delightful recipe.