CHERRY AND ALMOND FRANGIPANE GALETTE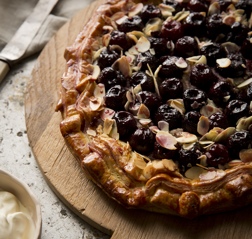 Ingredients
400 grams cherries, pitted (weight is un-pitted)
100 grams caster sugar
445 gram packet Carême sour cream shortcrust pastry (pre-rolled), defrosted
1 egg, whisked
2 tablespoons cherry jam, warmed
1 handful of flaked almonds Add to basket
Frangipane
120 grams unsalted butter, softened
150 grams caster sugar
2 eggs
325 grams almond meal Add to basket
1 teaspoon almond essence Add to basket
1 tablespoon plain flour
15 ml brandy
Foodie Facts
Blanched Almond Meal is a great alternative to flour if you're Gluten-Free, it creates a finer texture than its raw counterpart and makes the BEST Macaroons and Biscotti!
Method
The local cherry season is short enough to miss entirely unless, like me, you have someone in your house who seems instinctively aware of when the very first cherry ripens. Needless to say I'm pretty partial myself, though rather than trying to demolish a box by myself, I quite like to cook with them too.
This elegant free-form tart is also delicious with strawberries. Simply slice the same quantity of strawberries (don't roast first) and arrange them between the lines of frangipane with the tips pointing up before baking, and of course switch the cherry jam to strawberry jam.
difficulty moderate
prep time 20mins (approx.)
total time 1 hour 30mins (approx.)
main ingredient(s) cherries, shortcrust pastry, almond meal, eggs, almonds
Preheat the oven to 180°C fan-forced or 200°C conventional.
Place the pitted cherries into a ceramic baking dish, sprinkle over 100 grams of caster sugar and bake for 10 minutes. Set aside to cool.
For the frangipane, cream the butter and sugar in a food processor until pale and fluffy. Add the eggs one at a time and blend to combine. Add the almond meal, almond essence, flour and brandy and combine. Spoon into a piping bag with a star nozzle attached and set aside at room temperature.
Lay out the defrosted pastry and cut a dinner plate sized disc (approx. 26cm diameter) from the pastry at one end and lay on a baking tray lined with baking paper, brush with egg. Brush the remaining pastry with egg and cut into strips 2cm wide.
Lay the ribbons of pastry around the outside of the cut round, pleating them as you go and with half the width overhanging the edge. Repeat this with the remaining strips inside, and slightly overlapping, the first circle.
Brush the exposed disc of pastry with half the jam and pipe the frangipane mixture in a spiral pattern, totally covering the base.
Arrange the cherries (keep the syrup) between the lines of frangipane and scatter with flaked almonds. Bake for 35 minutes or until the pastry is golden and the frangipane starts to puff and brown. Brush with the remaining jam and some of the cherry roasting syrup while still warm. Serve with cream.
Thank you to the gorgeous Karen Martini for this decadant recipe.
6-8 desserts