CHICKEN AND SNOW PEA ALMOND SALAD WITH MANGO SALSA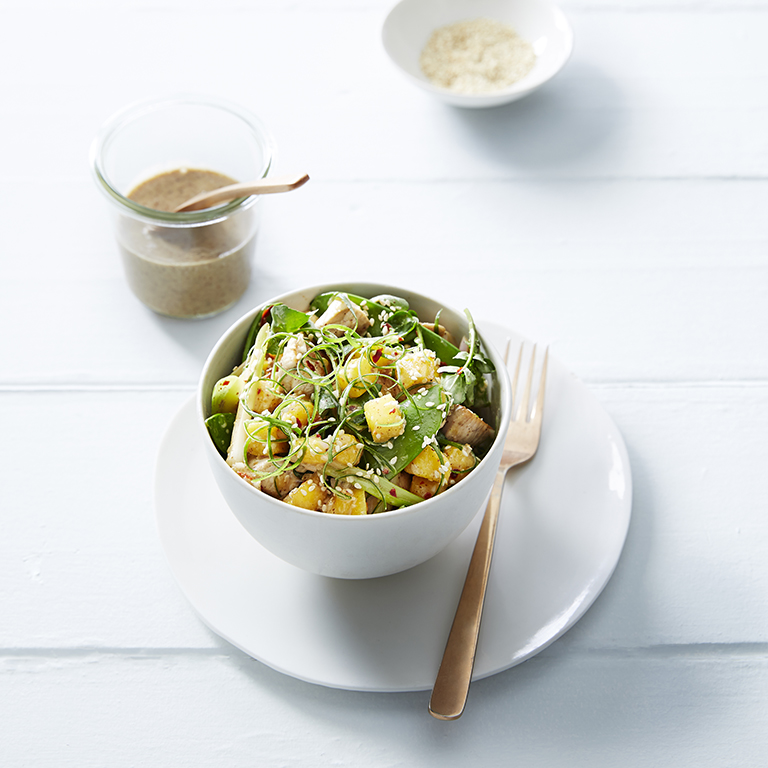 Ingredients
200g/ 1 cup chicken breast
200g/ 2 small handfuls snow peas
2 cloves garlic, minced
1 small bunch spring onions
15ml/ 1 Tbsp olive oil
100g/ ½ cup almond butter
juice of 2 lemons
1 small bunch watercress
5g/ 1 Tbsp toasted sesame seeds
200g/ 1 ripe mango
50g/ 1 red shallot, minced
1 tsp red chilli flakes
1 lime juice
Foodie Facts
Almonds are a source of vitamin E, copper, magnesium, and high quality protein.
Method
Dice the chicken breast into evenly sized 2cm pieces using a sharp knife and set aside covered in abowl.
Remove the stalks off the snow peas and set aside ready for cooking.
Trim the green part of the spring onions and slice very thinly lengthwise in 3cm strips, place the green strips into a bowl of icy water, remove the roots from the white portion and slice in halflengthways setting aside with the snow peas.
Mix the lemon juice with the almond butter, the mixture should be easily pourable like a vinaigrette, if not add a little more lemon juice and a touch of water.
Heat the olive oil in a heavy bottomed pan on a high heat, when the pan is shimmering and almost smoking, add the chicken and brown evenly. Follow with the snow peas and the whites of the springonions.
Once the spring onions have browned slightly, add the minced garlic and cook for a further 2-3 minutes before turning the heat off and setting everything aside in a salad bowl.
Remove the skin from the mango and dice into ½ cm pieces, toss the mango with the spring onion greens, shallots, lime juice and chilli flakes and add to the bowl with the chicken and beans.
Add the almond/lemon mixture, tossing the ingredients to coat everything evenly.
Serve into bowls or plates, top with the toasted sesame seeds.
Recipe by The Royal Nut Company.
Serves 1-2