FRUIT AND BRAZIL NUT GRANOLA WITH PUFFED BUCKWHEAT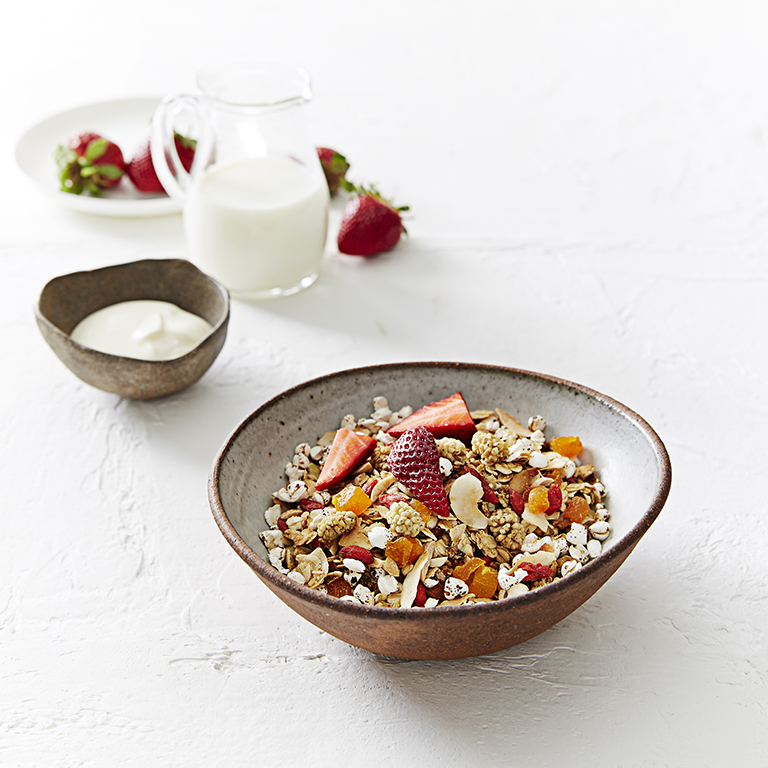 Ingredients
500g/5 cups rolled oats
120g/2 cups coconut flakes
45g/ ¼ cups pumpkin seeds
pinch of salt
80g/ 'Öìcup coconut sugar
40ml coconut oil
40ml maple syrup
125g/ ½ cup brazil nut butter
45g/ ¼ cup dried apricots
45g/ ¼ cup goji berries
30g/ ¼ cup dried mulberries
100g/ 1 cup slivered almonds
30g/ 3 cup puffed buckwheat
Foodie Facts
Making granola is quick, easy and allows you to control everything that's included!
Method
Preheat the oven to 150°.
In a large bowl, mix the oats, coconut flakes, salt, coconut sugar, and almonds.
Heat the sugar, maple syrup and coconut oil in a sauce pan on the stove until the coconut sugar is fully dissolved.
Stir in the brazil nut butter until well combined.
Pour the wet mix over the dry ingredients and mix well until everything is evenly coated. Transfer the mix into a parchment lined baking tray.
Bake the granola until golden brown remembering to stir it every 15 minutes or so for about 1 hour.
Once the granola is golden, mix with the dried fruit and puffed buckwheat. Serve with fresh fruit and greek yoghurt or however which way you like!
Recipe by The Royal Nut Company.
Serves 8-12