KAREN'S CHRISTMAS CAKE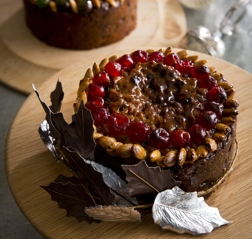 Ingredients
225 grams unsalted butter
270 grams soft brown sugar
500 grams mixed sultanasand currants
150 grams dried pears, chopped
100 grams pitted dates, chopped
100 grams dried cranberries
50 grams mixed peel
130 grams red glac鬊cherries
125 grams glacé ginger, chopped
2 teaspoons ground allspice
2 teaspoons ground cinnamon
3 teaspoons ground ginger
2 teaspoons orange, finely grated zest
1½ teaspoons bicarbonate of soda
375 ml Marsala, you could also add a slug of rum or brandy (keep the total volume the same), plus 1 tablespoon extra
3 eggs, beaten
½ teaspoon almond essence
225 grams plain flour
225 grams self-raising flour
125 grams glacé cherries, to decorate
150 grams whole blanched almonds, to decorate
Foodie Facts
"You can make this on Christmas Eve, or even on Christmas Day, if time gets the better of you, but it will intensify in flavour if you can make it a week or so beforehand" 
Method
I'd like to say that this recipe has been handed down over generations, and that I faithfully make it every year without fail. But that would be a lie. The original recipe is actually a firm family favourite, just not from my family. A friend of mine shared it with me earlier this year and I just fell in love with its simplicity. Naturally I have made it my own with several tweaks.
Difficulty Easy
Prep time 25mins (approx.)
Total time 2hrs 30 minutes (approx.)
Preheat your oven to 170'C fan-forced or 190'C conventional. Grease and line two 18cm cake tins (with removable bases), you could also use one 26cm cake tin but I prefer the smaller cakes.
In a large, wide-based pot, combine the butter, sugar, dried and glac鬊fruits, spices, zest, bicarbonate of soda and Marsala, bring to the boil over medium heat and cook for 3 minutes. Remove from the heat and set aside to cool for 15 minutes.
Add the eggs and almond essence to the fruit mix then stir in the flours until well combined.
Pour the mixture into the prepared tin(s) and decorate with extra glac鬊cherries and blanched almonds. Bake for 90-100 minutes or until cooked (when a skewer comes out clean). Remove from the oven and pour 1 tablespoon of brandy, rum or Marsala over the cake as soon as it comes out of the oven, cool in its tin on a cake rack.
Thank you to the gorgeous Karen Martini for this stunning fruit cake recipe.
makes 2 cakes