PERSIAN BARLEY WITH SPLIT PEAS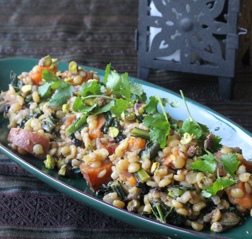 Ingredients
1/4 cup split yellow peas
1 red onion, finely chopped
1 clove garlic, chopped
1 tablespooncumin seeds
4 cardamom pods, crushed
2 cloves
1 cinnamon stick
¼ cup barley
1 cup vegetable stock
200g sweet potato, cut into chun
150g cavolo nero (also known as Tuscan kale or black spinach), chopped
1 tablespoon currants, soaked in 1 tbs hot water
¼ cup chopped fresh coriander, plus a few sprigs to serve
15 g pistachios, chopped
Foodie Facts
Pistachios are high in fibre, iron and folate to keep you functioning at your peak.
Method
Rinse split peas, cover with water and set aside to soak.
Heat a non stick pan, spray with oil and add onion, garlic, cumin, cardamom, cloves and cinnamon and cook for a few minutes.
Rinse barley well and add to pot with stock and simmer for 15 minutes. Add drained and well rinsed peas, return to a simmer and cook for 25 minutes.
Add sweet potato, cavalo nero and currants and cook for another 10-15 minutes, or until liquid has evaporated and ingredients have cooked.
Adjust seasonings, add coriander and top with pistachios and coriander sprigs.
Thanks to the weigh it up team for this georgeous recipe.
SERVES 2