QUINOA SOUP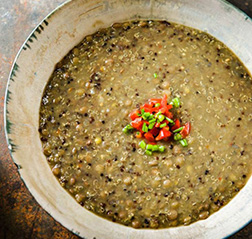 Ingredients
GARNISH:
Red capsicum, chopped
Parley stems, chopped
Foodie Facts
Red lentils are extremely versatile and so good for you, as they are full of fiber, protein and B-vitamins!
Method
Rinse the lentils
Bring 3 litres water to a boil in a large pot, add the lentils and simmer for 5 minutes
Rinse the quinoa well to remove any bitterness.
Place in a fine strainer and rinse again. Add to the pot with the lentils
Add the spices, return to a boil and simmer gently for about 20 minutes.
Garnish with chopped red capsicum and parsley stems.
Thank you to marvellousMarwa Makool for this amazing recipe
Copyright © 2013 Yallateef
Serves 4