ROASTED GRAPE AND FARRO SALAD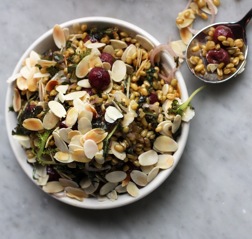 Ingredients
1 cup red grapes
2 cups farro
½ bunch of picked parsley
3 shallots
1 cup of red mizuna
½ cup shaved almonds
¼ cup extra virgin olive oil
3 tbsp red wine vinegar
1 tbsp Dijon mustard
Foodie Facts
Almonds contain calcium which is needed for healthy bones.
Method
Soak farro overnight in enough water to cover by 3cm
Cook farro in 1L of boiling water until tender
Once cooked strain and cool down, then set aside
Roast the almonds until golden brown, and cool
Drizzle the grapes with a little olive oil on a tray with baking paper and roast at 180 for around 8mins or just until they colour a little and start to release a little juice
Slice shallots thinly, pick and wash the parsley
Make the dressing by first whisking together the vinegar and mustard, then slowly adding the olive oil
Once all this is done and cool, mix together all the ingredients except the almonds. Use the dressing to coat everything, place in a bowl and finish with the almonds
BUON APPETITO!
Copyright ©2013 Ladro Restaurant
Thank you to Ladro for this stunning recipe.