SUPER FOOD ENERGY BARS WITH CACAO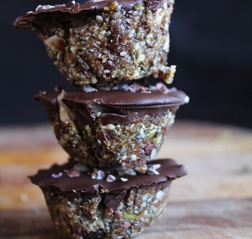 Ingredients
1 cup walnuts
1/3 cup chia seeds
1/3 cup ground flax seeds
1/3 cup hemp seeds
1/4 cup cacao nibs
1/4 cup coconut flakes
3/4 cup pumpkin seeds
1/2 cup raisins
1 cup dates
1-2 tablespoons melted coconut oil, if needed
Foodie Facts
Our organic cacao nibs are full of antioxidants, magnesium and wonderful nutrients that help keep you healthy, joyful and energized. Enjoy cacao nibs on their own as a healthy snack or mix with our delicious range of nuts and dried fruits especially with our goji berries and incaberries for an antioxidant power boost.
Method
Throw the dry ingredients (keep a little bit of each ingredient to add in a second) in your food processor, then add the dates and raisins and process until everything it starts to stick together. If too dry, add more dates or coconut oil.
Put in the remaining dry ingredients you left out and mix in with your hands. Press into a lined pan and set in the fridge for an hour or more. Cut into bars and store for up to one week. If you have extra, shape them into cupcakes and top off withraw chocolate.
Thank you to amazing Emily Von Euw for this delightful recipe.
Makes about 15 bars