BUTTERNUT PUMPKIN AND CASHEW SOUP WITH YOGHYURT, CORIANDER AND PEPITAS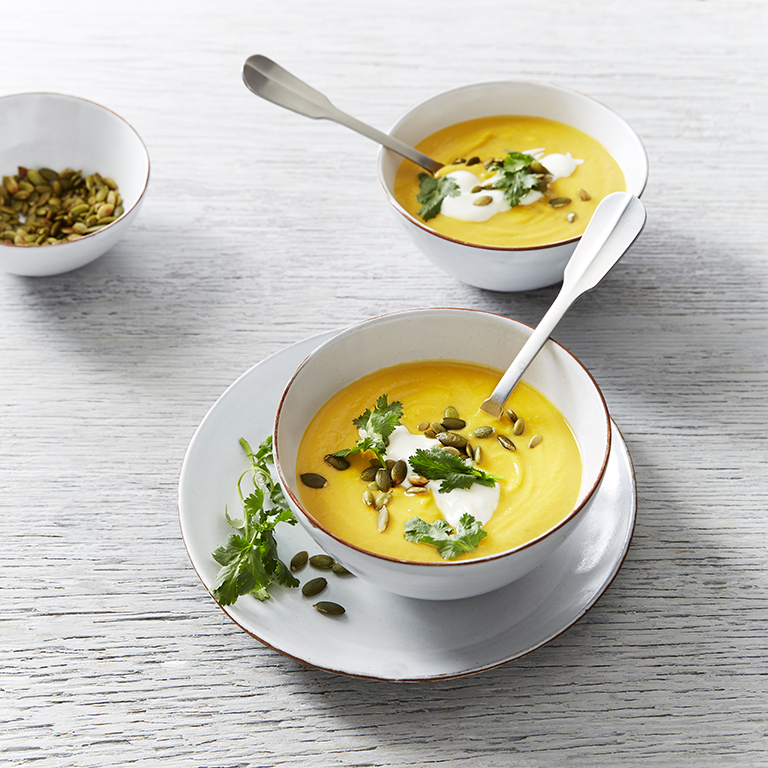 Ingredients
½ or 500g butternut pumpkin
15g/ 5 cloves of garlic
1 Tbsp olive oil
1ltr/ 4 cups chicken or vegetable stock
100g of cashew butter
100g of greek yoghurt
60ml/2 Tbsp juice from 1 lemon
a few sprigs of coriander to garnish
salt and pepper for seasoning
50g pepitas to serve
Foodie Facts
Foodie Facts
Cashews are packed with vitamins, minerals and antioxidants. These include vitamins E, K, and B6, along with minerals like copper, phosphorus, zinc, magnesium, iron, and selenium, all of which are important for maintaining good bodily function.
Method
Preheat the oven to 180° and line a baking tray with parchment paper.
Peel and dice the butternut pumpkin then lay it out on the baking tray with the garlic cloves, drizzle with the olive oil and season with the salt and pepper.
Roast the garlic and pumpkin for about 45 minutes or until they are well cooked and tender.
Once the pumpkin is fork tender, place it along with the garlic cloves and the into a pot and cover with the chicken stock, bring to the boil then reduce down to a simmer for 5-10minutes.
Remove the pot from the heat and stir in the cashew butter and set aside to cool.
Meanwhile, in a heavy bottomed pan roast the pepitas on a medium heat, tossing the pan regularlyto evenly brown the pepitas.
Once the soup has cooled to room temperature transfer into a blender or food processer and blend until the soup is smooth and creamy.
To serve, bring the soup back to the boil and mix the lemon juice with the yoghurt. Once the soup is hot, pour into soup bowls and garnish with the yoghurt, coriander, pepitas and finish with the saltand pepper.
Recipe by The Royal Nut Company.
Serves 2-3