BBQ CORN & ZUCCHINI WITH CHICKPEAS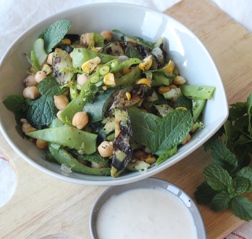 Ingredients
1 corn cob, in husk
Olive oil spray
2 zucchinis, sliced
6 snow peas, sliced
400g tin chickpeas, well rinsed
1 tablespoon poppy seeds Add to basket
20 mint leaves
2 tablespoonwalnuts, chopped &toasted Add to basket
Dressing
2 tablespoontahini Add to basket
2 tablespoonlemon juice
2 tablespoonwater
Foodie Facts
Walnuts contain omega-3's for a healthy heart and brain.
Method
Whisk together dressing ingredients.
Heat BBQ or grill over medium heat and cook corn, still in husk, turning every few minutes for around 10 minutes. Cool slightly, then remove husk and slice kernels off the cob.
Spray zucchini with oil and cook a few minutes each side, until softened and beginning to brown.
Place snow peas, chickpeas, poppy seeds and dressing in a salad bowl and toss through cooled corn and zucchini.
Top with mint leaves and walnuts.
Thanks to the weigh it up team for this georgeous recipe.

2 SERVES