FARRO SALAD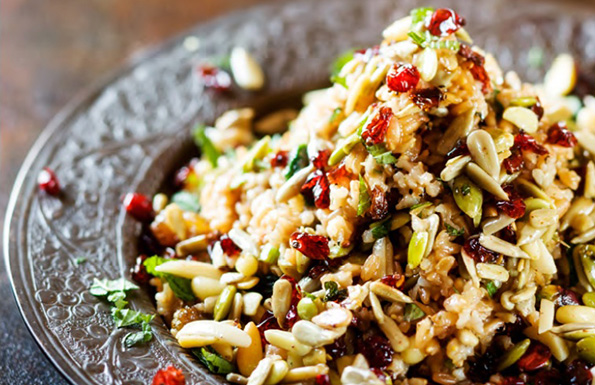 Ingredients
400g Farro (a whole grain) Add to basket
1 tbs rice bran oil
300g Archie's blend 2 (Oasis Bakery)
Dressing
1 tbs EV olive oil
1 tbs hibiscus dressing
1 tbs apple balsamic vinegar
1 tbs soy sauce
1 tsp garlic dip
1 tsp Maras chilli
1 tsp garlic and herbs
1 tbs lemon juice
1 tsp mustard with seeds
1 tsp sea salt Add to basket
1 tsp crushed pepper Add to basket
1 tsp zaatar Add to basket
Foodie Facts
ARCHIE'S BLEND
2 tbs Sunflower kernels
2 tbs Pumpkin kernels
2 tbs Barberries
2 tbs Mulberries
2 tbs Pine Nuts
2 tbs Pistachio Kernels
2 tbs Slivered Almonds
Method
Bring Farro to a boil in a saucepan with twice its own volume of water and simmer for 10 minutes.
Drain off any remaining liquid and set grain aside.
Heat oil in a pan, heat Archie's blend for 2 minutes and set aside.
Make a dressing by mixing the ingredients and, in a large bowl, combine the Farro, Archie's blend and the dressing. Mix well and serve.
Thank you to marvellousMarwa Makool for this amazing recipe.
Copyright © 2013 Yallateef
Serves 4