SPICED CHICKEN COUS COUS WITH ALMONDS & SPINACH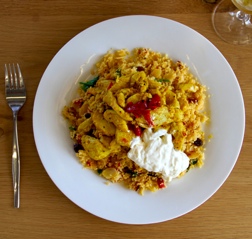 Ingredients
500g (2 cups) Cous Cous
6 corn-fed single chicken breast fillets
Moroccan spices Seasoning
Olive oil
Roasted red peppers, finely chopped
1/3 cup flaked almonds
1/3 cup sultanas
2 cups chicken stock
60g baby spinach leaves
Sour cream
Foodie Facts
Nuts commonly grown in Australia are almonds, macadamias, pistachios, peanuts, pecans, walnuts and hazelnuts.
Method
Cut the chicken into strips, marinate in the spices and cook on a hot pan.
Heat a lightly oiled pan and roast the almonds. Add sultanas and the roasted peppers. In a large saucepan heat the chicken stock until boiling add cous cous and the roasted almonds, sultanas, peppers. Use fork to combine. Cover cous cous and set aside for a few minutes and then fold through spinach until just wilted through the mix.
Serve the cous cous and place the chicken pieces on the top. Garnish with extra roasted peppers and a little sour cream.
Enjoy.
Thank you to the amazing Marylin and Sons for this georgeous recipe.
Serves 6