MOROCCAN LAMB COUSCOUS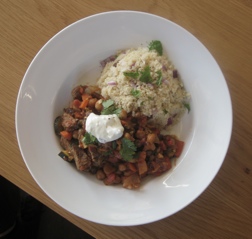 Ingredients
Garlic, 2 cloves chopped
Chili (to taste)
2 tsp Morroccan seasoning
2 tsp Cumin
1 tsp Coriander powder
Fresh coriander, a handful
1 tsp Cinnamon
tinned tomatoes
veg stock (small carton)
1 can of chickpeas
2 cups of other vegetables (eg. zuchinni, carrot, pumpkin, spinach etc.)
Lamb, roughly cut into pieces
Currant, 1/4 of a cup
Coucous
1 cup of stock (chicken or veg)
1/2 red onion sliced
fresh mint
fresh coriander
lemon
butter
olive oil
salt and pepper
roasted sliced almonds (optional)
Foodie Facts
Our couscous has been pre-steamed and dried, meaning it is extremely quick and effortless to prepare. Simply put the desired amount in a bowl (one cup dry will produce two and a half cups cooked) and cover with hot liquid and allow to sit for five minutes before lightly fluffing with a fork.
Method
Fry onion until soft, then add garlic, some chopped fresh chili. Add seasoning, cumin, ground coriander and cinnamon. Fry on moderate heat for a few minutes so it smells all lovely, then add tomatoes and stock. Bring to boil and then add chickpeas and vegetables and currants.
Meanwhile, prepare the couscous. About half cup of coucous per person is a good amount. For each half a cup of couscous you need to add the same amount of liquid. I use a mixture of water and stock. So if you are cooking for 4 people, use 2 cups of couscous, 1 cup of stock and 1 cup of water.
Boil the water and stock mixture with some olive oil in it. Then take off the heat and add all the couscous. Then stand with the lid on until all the liquid is absorbed (around 5 mins), then add a couple of knobs of butter and wait till it melts and stir through. Add all other ingredients with some squeezes of lemon and salt and pepper to taste. I like to add currants and almonds for texture.
Simmer until a little thickened (around 20-30 mins) or until you like it. Taste it and add more spices if required. Add salt and pepper, to taste of course. If you are adding meat you can either cook it separately and then pile it on top when all finished or fry it in the spices at the start.
Serve it all together with pita bread and yogurt or tzatziki.
Thank you to the amazing Marylin and Sons for this georgeous recipe.
Serves 5