HUNZA PIE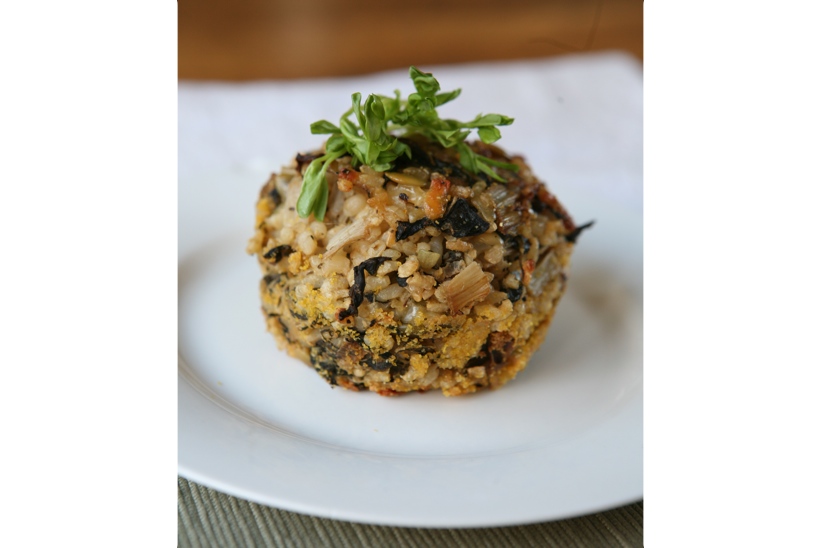 Ingredients
Olive oil spray
¼ cup polenta
2/3 cup brown rice, rinsed
1 ¼ cup vegetable stock
2 garlic cloves, crushed
1 cardamom pod, crushed
1/2 bunch silverbeet
100g red onion, finely sliced
5g ginger,grated
1/2 tablespoondried thyme
1/2 tablespoon dried oregano
100g low-fat tasty cheese, grated
25g pumpkin seeds, plus extra to garnish
1/2 lemon, zested and juiced
½ bunch flat leaf parsley, chopped
2 eggs, lightly beaten
1 tablespoon salt
Foodie Facts
Polenta is a versatile, golden delight made from ground cornmeal. It becomes soft and creamy when cooked just like perfectly made mashed potatoes! Spice it up as you like, adding some butter, herbs or even seeds.
Method
Preheat oven to 180°C.
Spray 4 small pie pans with oil. Sprinkle a pan with polenta and shake to cover base and sides. Tip excess polenta into next pan and repeat.
Place rice, stock, half the crushed garlic and cardamom pods in a medium saucepan and bring to a simmer over medium heat. Continue cooking until almost all stock has been absorbed and steam holes appear in the rice. Remove from heat, cover and set aside for 10 minutes.
Wash silverbeet thoroughly. Do not dry. Remove stalks by running a sharp knife down the edge of the stem and cutting stalks into 1cm strips, then slice thinly. Roll up leaves and slice thinly.
Heat a large heavy-based saucepan over medium heat and spray generously with oil. Add onions and cook for 3 minutes or until onions have softened. Spray with oil then add ginger, other half of crushed garlic, thyme and oregano and cook for a further 3 minutes. Add silverbeet stems and cook for 5 minutes or until stems have softened. Add silverbeet leaves, reduce heat to low and cook, covered, stirring occasionally, until leaves have wilted.
Remove from heat and stir through rice mix and remaining ingredients. Press mixture into pie pans.
Top each pie with a few pumpkin seeds and bake for 20–30 minutes or until crisp at edges.
Thanks to the weigh it up team for this georgeous recipe.
SERVES 4