FENNEL AND HAZELNUT PIZZA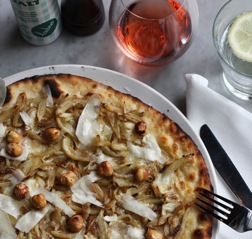 Ingredients
1 fennel
½ cup of hazelnuts
100g taleggio
50g pecorino
½ bunch of parsley
220g of pizza dough [basic recipe of your choice]
Foodie Facts
Hazelnuts contain folate which is essential for new growth and particurlaly important during and around pregnancy.
Method
– Roast hazelnuts at 180 until the skins become loose
– To peel the nuts place them in the center of a tea towel, lift the corners up into your hand so the nuts are hanging in a sack and rub all the nuts together with your other hand for 2 minutes. Now place the tea towel on your bench and open up and pick out your shell less nuts.
– Thinly slice the fennel and sauté in olive oil for 2 minutes
– Pick, wash and chop the parsley
– Tear the taleggio up into around 2cm pieces and shave the pecorino
– Roll out your pizza dough and top with the fennel, taleggio, hazelnuts, parsley and drizzle with olive oil.
– Once cooked finish with the shaved pecorino
BUON APPETITO!
Copyright ©2013 Ladro Restaurant
Thank you to Ladro for this mouth-watering recipe.