MOVIDA SHELLFISH BISQUE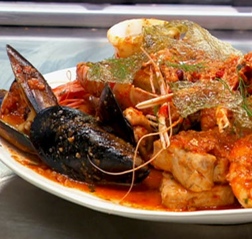 Ingredients
Shellfish bisque (makes about 1.5L):
1kg shellfish shells, such as prawn, scampi, lobster or crab
50ml olive oil
1 garlic head, halved
3 small carrots, peeled, roughly chopped
1 onion, peeled, roughly chopped
1 fennel bulb, roughly chopped
1 teaspoon fennel seeds Add to basket
2 teaspoons black peppercorns Add to basket
100ml brandy
400g can chopped tomatoes
5 thyme sprigs
4 bay leaves Add to basket
5 parsley stalks
1.6L water
Soffrito:
50ml olive oil
1 brown onion, finely chopped
1 garlic clove, finely chopped
1 red capsicum, stem and core removed, chopped
2 tomatoes
Romesco sauce:
6 noras or dried chipotle chillies, seeds and stems removed, soaked in boiling water until soft*
160g hazelnuts, roasted, skins removed Add to basket
160g blanched almonds, roasted Add to basket
1 red capsicum, roasted, skin removed, juice reserved
330g soffrito
1½ tablespoons sweet paprika Add to basket
1 tablespoon olive oil
100ml sherry vinegar
To serve:
2 tablespoons olive oil, plus extra as needed
4 x 1cm-thick slices tuna fillet, such as Albacore
4 x 2cm-wide rings calamari, such as Southern
1 tablespoon finely chopped parsley
1 garlic clove, finely chopped
4 medium prawns, peeled, deveined, leaving heads and tails intact
2 scampi, halved lengthwise, cleaned
1 tablespoon dry sherry
1-2 cups shellfish bisque, heated
4 extra-large mussels, such as Spring Bay, de-bearded, cleaned
4 clams, such as Tasmanian surf, soaked in water for at least 2 hours
¼ cup Romesco sauce
1 piece salted sea lettuce, soaked, rinsed (optional)*
Fennel fronds, to garnish
Crusty bread, to serve
Foodie Facts
MOVIDA SHELLFISH BISQUE
Method
Shellfish bisque
1. For the bisque, preheat oven to 180C.
2. Place shells into a roasting pan, and roast for about 30 minutes or until fragrant, golden and crisp. Use a meat mallet to break up the shells.
3. Meanwhile, heat oil in a pressure cooker over high heat. Add garlic and cook for 1 minute until lightly golden. Add carrot, onion, fennel, fennel seeds and black peppercorns, and season with salt. Cook for about 10 minutes or until deep golden and caramelised, stirring regularly.
4. Add brandy to deglaze pan, then add remaining ingredients including the shells. Bring to the boil, then reduce heat to a simmer. Skim any scum that rises to the surface. Seal pan with lid of cooker set to medium pressure. Simmer for 30 minutes, release pressure, then carefully remove lid. Alternatively, you can use a saucepan and simmer stock for about 90 minutes.
5. Strain mixture through a large sieve or colander. Using a stick blender, chop and blend the mixture as finely as possible, pushing through as much of the liquid as possible. Strain mixture though a fine sieve and discard any solids.
6. Transfer bisque to a saucepan, then place over medium heat and bring to a simmer. Reduce heat to medium-low and continue to cook for 10 minutes until reduced slightly, intensifying the flavour. Season to taste. Set aside until needed.
*You can use the remaining bisque as a stock or soup. It can be frozen for up to 2 months in an airtight container.
Soffrito
7. For the soffrito, heat oil in a heavy-based saucepan over medium-high heat. Add onion, and cook for 2 minutes until slightly softened, then add garlic and cook for a further minute. Season with salt, then add capsicum and continue to cook for a further 10 minutes until completely softened.
8. Meanwhile, make a cross-incision in the base of the tomatoes and place in a large bowl. Pour over boiling water to cover and set aside for 20 seconds until skin starts to loosen. Remove from bowl and refresh in iced water, then peel off skin, remove seeds and dice.
9. Add tomato to pan, and cook for a further 5 minutes or until a jam-like consistency, stirring occasionally.
Romesco sauce
10. For the romesco sauce, place chillies in a bowl and cover with boiling water and plastic wrap. Set aside for 15 minutes or until soft. Drain, squeezing out any excess water.
11. Process nuts in a food processor until coarsely chopped, then transfer to a bowl.
12. Add capsicum, juice and remaining ingredients to food processor and process until smooth.
13. Transfer mixture to bowl with nuts and fold to combine. Season to taste.
*Leftover Romesco sauce can be served with grilled meat, fish or vegetables. Store in an airtight container in the fridge for up to 2 weeks.
To Serve
1. Heat 2 tablespoons of the oil in a large deep frying pan over high heat. Add tuna and calamari. Cook tuna for about 1 minute each side. Add parsley and garlic, then add prawns. Remove tuna from pan and set aside until needed. Add scampi shell side down. Season seafood with salt.
2. Add sherry to pan and cook for 1 minute to cook off the alcohol, then add bisque. Remove the prawns and scampi if cooked. Add mussels and clams, cover with a lid and cook for about 1 minute until shells open up.
3. Return seafood to pan.
4. Stir in Romesco sauce until sauce thickens and clings to seafood.
5. Meanwhile, if using sea lettuce, heat 1 tablespoon of oil over medium-high heat. Fry sea lettuce for about 1 minute each side or until crisp.
6. Transfer stew to a large serving plate. Scatter with pieces of sea lettuce and fennel fronds and serve immediately.
*Noras are dried Spanish peppers.
*Soak sea lettuce in a bowl of cold water for about 20 minutes, changing the water twice. Salted seaweed from Japanese shops can be used a substitute to sea lettuce.
Thanks to the fabulous Frank Camorra for this amazing recipe.
4 as part of a shared meal