SOBA & ZUCCHINI NOODLE SALAD W CASHEW BUTTER AND ROASTED SWEET POTATO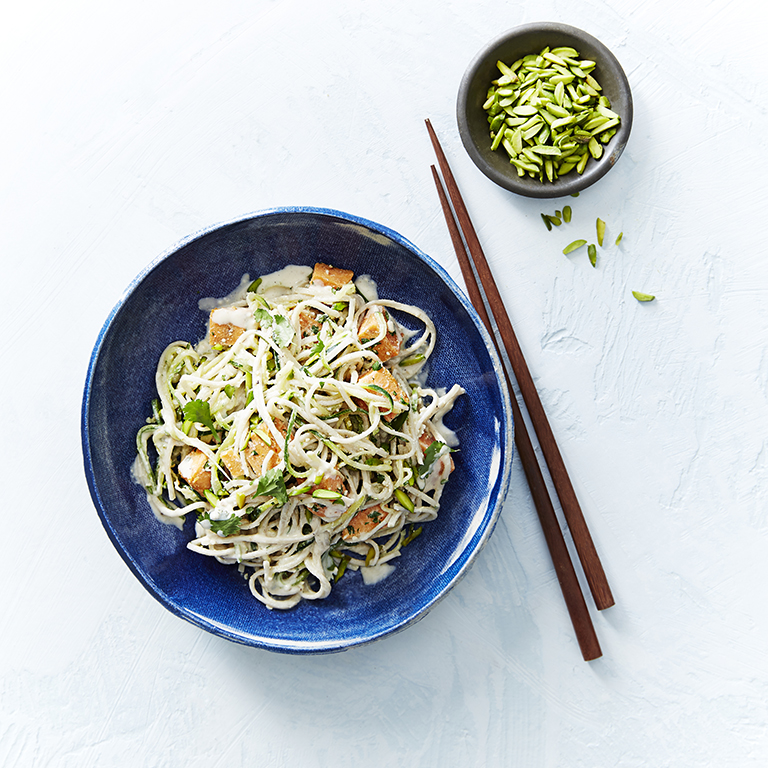 Ingredients
200g/ 2 cup sweet potato, peeled and cubed to 2cm
200g/ 2 cup zucchini
200g/ 2 cup buckwheat noodles
30ml/ 2 Tbsp olive oil
6 cloves garlic, crushed
80g/ ¼ cup cashew butter
juice of 2 lemons
2 Tbsp finely chopped parsley and a few sprigs
15g/ 2 Tbsp chopped pistachios
Foodie Facts
Soba Noodles are a thin, light brown coloured noodle made from buckwheat flour. Buckwheat is rich in protein and minerals and great for gluten-free recipes.
Method
Preheat the oven to 180° and line a baking tray with parchment paper, toss the sweet potato with the olive oil, garlic and a pinch of salt and pepper. Once the oven is hot, roast the sweet potato for 30-45minutes or until tender. Set aside to cool.
Slice the zucchini lengthways into long thin 1mm strips and then slice again to make them roughly 3mm thick ribbons, you can use a vegetable peeler or mandoline to help with this step.
Bring a large pot of water to a rolling boil and blanch the zucchini noodles for 30 seconds beforeshocking in an ice bath, then cook the soba for 3 minutes or until al dente, once done, rinse the soba in a colander under cold water and then drizzle with the olive oil to prevent the noodles from sticking to each other. Toss the soba with the zucchini.
In a mixing bowl, whisk the lemon juice, parsley and cashew butter until well combined, it should be quite runny enough to pour, if not add more lemon juice.
Toss all the ingredients in a salad bowl and serve, garnishing with the pistachios and sprigs ofparsley.
Recipe by The Royal Nut Company.
Serves 2-3