LEMON CHIA SEED BALLS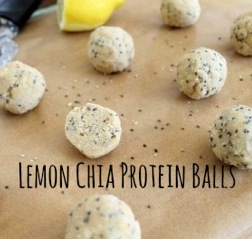 Ingredients
1 ½ cups hazlenut meal
1 ½ cups shredded coconut, unsweetened
1/3 cup coconut flour
¼ cup coconut oil, melted
2 pinches of sea salt
4 tablespoons rice syrup
4 tablespoons fresh lemon juice
2 teaspoons pure vanilla extract
1 tablespoon lemon zest
Foodie Facts
Chia seeds are one of the highest known plant sources of essential omega-3 fats, providing a positive anti-inflammatory effect in the body, beneficial for heart and joint health.
Method
Mix all of the dry ingredients together in a mixing bowl. Set aside
Mix the wet ingredients together into a bowl. Set aside
Put the mixing bowl onto your mixer and with your mixer on, slowly stream in the wet ingredients
While your mixer is on, add the melted coconut oil, mix until well combined
Turn off the mixer
Roll the dough into walnut sized balls
Place the rolled balls in the fridge for about an hour
Thank you to the beautiful Sheridan Buchanan for this wonderful recipe.
Makes 12 - 15