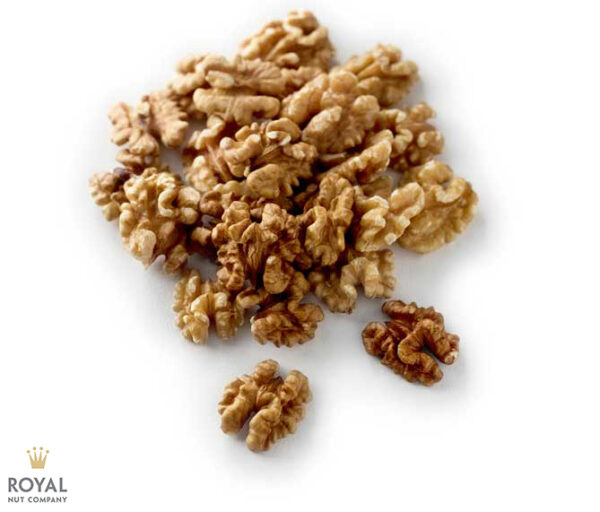 Californian Walnut
From: $6.00
The Royal Nut from the Royal Nut Company! Walnuts are the oldest tree food known to man, dating back to at least 7000 B.C! Early history indicates that walnuts came from ancient Persia, where they were reserved for royalty. We can see why, with their attractive shells, curly nut meat, and their rich, sweet flavour – with only a hint of bitterness found in the edible skin. Over 40% of traded walnuts are from the prime growing region of California and it is from here that we source the delectable Chandler variety. This is a large, smooth, oval shaped nut. Chandler walnuts are highly prized for their extra light and high quality kernels. It's the meat you can eat when you're not eating meat! We source and select only the very best quality walnuts to supply our loyal customers. Our packs have a high percentage of whole nuts, which is much better than you'll see elsewhere. NEW 5KG BULK PRICE AVAILABLE!
Nutritional Info

| | | |
| --- | --- | --- |
| GRAMS PER SERVE | 50 | |
| SERVES PER PACK | 20 | |
| | PER SERVE | PER 100g |
| ENERGY | 1370kJ | 2740kJ |
| PROTEIN | 7.615g | 15.23g |
| FAT, TOTAL | 32.6g | 65.2g |
| SATURATED | 3.05g | 6.1g |
| CARBOHYDRATE | 6.85g | 13.7g |
| SUGARS | 1.3g | 2.6g |
| SODIUM | 2mg | 4mg |

Ingredients

Walnuts

Health Benefits

The most notable nutrient found in walnuts is omega-3 in the form of alpha-linolenic acid –more than even tuna or salmon! Eating 1/4 cup daily provides the recommended daily amount of this nutrient needed to prevent depression and Alzheimer's. Walnuts are a great meal addition tor anyone on a plant based diet or reducing their meat intake. These brain-friendly nuts are also full of B vitamins, which are particularly great for your skin. B vitamins help with stress management, boost mood and prevent skin disorders. Other beneficial nutrients and minerals such as protein, folate, fibre, thiamine, copper, manganese, magnesium and zinc certify walnuts in their role as a super-healthy nut.

Country Of Origin

Product of USA

Storage Instructions

Keep refrigerated before and after opening to ensure long-lasting freshness

How To Use

Walnuts are a fantastic addition to savoury dishes including veggie burgers, imparting a dense, meaty texture and flavour. Walnuts can be added to both sweet and savoury baking and they are perfect for adding to muffins for flavour and nutrition! They look great in a salad and are just at home crumbled onto your breakfast.