CACAO AND CHIA PUDDINGS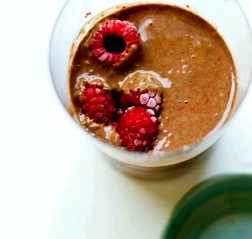 Ingredients
2 tablespoons chia seeds
½ cup coconut water, or almond milk or coconut milk
1 tablespoon cacao powder
1 tablespoon cacao nibs
1 teaspoon rice malt syrup
1 tablespoon shredded coconut
1 tablespoon almond butter
Foodie Facts
FOODIE FACT
Our Organic raw Cacao powder comes straight from the Peruvian Amazon to our nutty shelves! It is full of antioxidants, magnesium and nutrients that will help you stay healthy, joyful and energized!
Method
Combine chia seeds and coconut water and stir well
Leave to sit in the bowl for about 10 minutes while the seeds soak up the water, stirring a few times to avoid clumps
Stir in the remaining ingredients
Leave the mixture to sit and thicken to your desired consistency
Serve in small cups with fresh raspberries, blueberries, cacao nibs, or shaved raw
Thank you to the beautiful Sheridan Buchanan for this wonderful recipe.
Serves 4