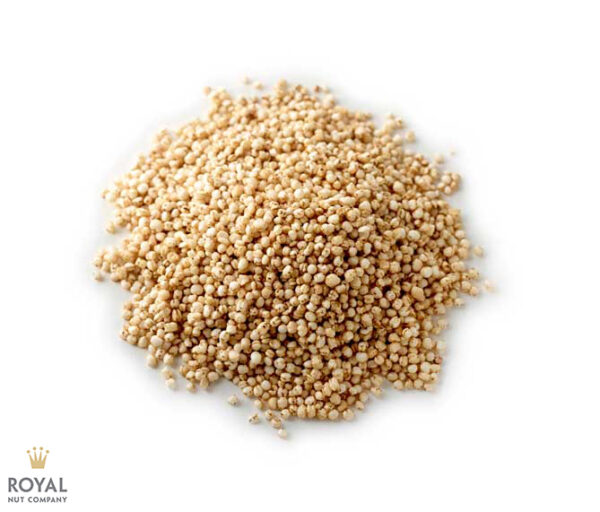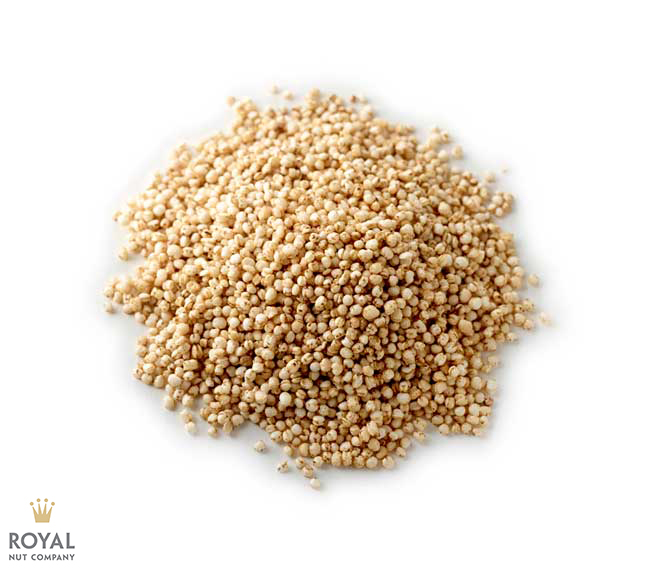 Organic puffed quinoa
$7.00
Organic puffed quinoa. A Royal favourite! White quinoa seeds are puffed or popped just like popcorn to make our Organic Puffed Quinoa.
Nutritional Info

| | | |
| --- | --- | --- |
| GRAMS PER SERVE | 50 | |
| SERVES PER PACK | 4 | |
| | PER SERVE | PER 100g |
| ENERGY | 798.5kJ | 1597kJ |
| PROTEIN | 4.95g | 9.9g |
| FAT, TOTAL | 2.35g | 4.7g |
| SATURATED | 0.4g | 0.8g |
| CARBOHYDRATE | 35.8g | 71.6g |
| SUGARS | 0.7g | 1.4g |
| SODIUM | 0.005mg | 0.01mg |

Ingredients

Quinoa

Health Benefits

As well as being gluten-free and low GI, quinoa is also an excellent source of protein, fibre and many essential vitamins and minerals. One serving of quinoa (approximately half a cup uncooked) provides over half of your daily-recommended intake of magnesium for healthy bones, and selenium for a healthy immune system. Quinoa is also a good source of iron and zinc. One serving of this super food offers a significant amount of folate, a mineral vital for healthy cell growth and red blood cells. Vitamin E, a powerful antioxidant, is also plentiful in quinoa.

Country Of Origin

Product of germany

Storage Instructions

Store in a cool dry area away from direct sunlight

How To Use

Once puffed, they no longer need cooking and can be eaten as a breakfast cereal or as a great addition to muesli. A super easy way to get all the goodness of quinoa! You can also try adding them to homemade muesli bars for great flavour, texture and nutrition.