SWEET POTATO CHIPS WITH CASHEW BUTTER HUMMUS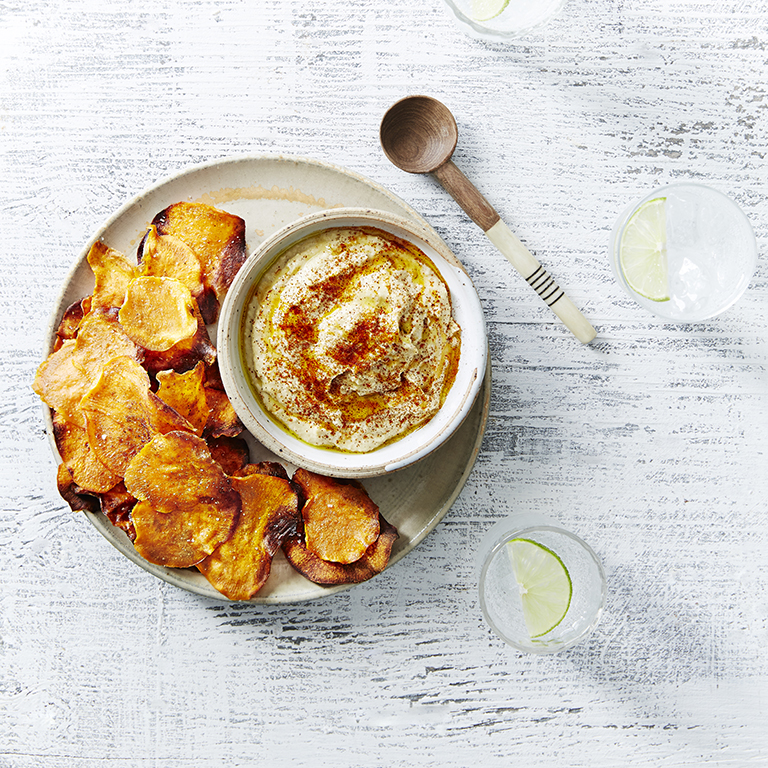 Ingredients
For the chips

For the hummus
400g/1 can chickpeas, rinsed and drainedAdd to basket
1 clove of garlic, minced
80g/2 Tbsp cashew butterAdd to basket
60ml/2 Tbsp extra virgin olive oil, plus extra for finishing
60ml/2 Tbsp juice from 1 lemon
Himalayan pink saltAdd to basket
1/4 cup of chopped nutsAdd to basket
Pinch of smoked, hot paprika (for the hummus)Add to basket
Foodie Facts
Method
For the chips
Preheatoven to 200°
Using a mandolin or a very sharp knife, slice the sweet potato into very thin rounds and place in a large bowl.
Toss the sweet potato with the oil, spices and salt. Lay out in single layers on baking trays and bake for around 20 minutes, turning them over halfway, until crunchy and slightly golden.
Once cooked, set the chips aside to cool before placing in a serving dish.
For the hummus
Put the chickpeas, garlic, nut butter, and lemon juice in a food processor and process until smooth. Gently pour in the olive oil while the processor is running. You may need to add water by the tablespoon to reach the desired consistency. Season with salt and pepper.
Place the hummus in a bowl and garnish with an extra drizzle of olive oil, a pinch of paprika and a scattering of crushed nuts. Eat with the chips or simply sticks of carrot and celery.
Recipe by The Royal Nut Company.
Serves 3-4