SEARED SWORDFISH WITH YEMENI CHICKPEA SALSA SERVED WITH MINTED WATERCRESS & GRAPE SALAD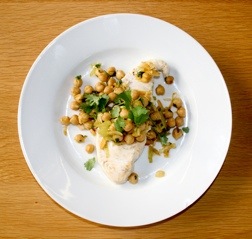 Ingredients
For the Swordfish
6 fresh swordfish steaks
250g of chickpeasAdd to basket
1 preserved lemon
1 red onion
2 celery stalks
fresh coriander chopped
2 cloves of garlic
1 teaspoon of ras al hanoutAdd to basket
1 fresh red chili
60g calamata olives
cold pressed extra virgin olive oil
salt and pepper
For the salad
2 bunches of fresh mint
2 bunch of fresh Watercress
1 bunch fresh italian parsley
1 bunch green grapes
1 bunch red grapes
250g of salted ricotta
juice of 2 lemons
cold pressed extra virgin olive oil
salt and pepper
Foodie Facts
Beans and legumes are low in fat, low in salt and low GI.
Method
Marinade the steaks in olive while preparing the salsa. To prepare the salsa, firstly remove and discard the flesh from the preserved lemons and slice the skin finely. Finely dice the red onion, garlic, chili, olives and celery. Drain the chickpeas and allow to dry.
Then prepare the ingredients for the salad; halves the grapes, wash, dry and then tear the herbs and combine in a large salad bowl with the lemon juice and 2 good glugs of olive oil. Grate the ricotta over the salad and toss through with seasoning to taste.
Heat a tablespoon of olive oil in a skillet and add the salsa ingredients keeping some coriander for garnish, cooking for 3 minutes.
While the salsa is cooking, sear the swordfish steaks on a hot frying pan cooking for approximately 2 minutes on each side, depending on the thickness of the steaks.
Serve the fish on large plates topped with salsa and fresh coriander. Serve salad in small side bowls.
Enjoy!
Thank you to the amazing Marylin and Sons for this georgeous recipe.