MUSHROOM & QUINOA TART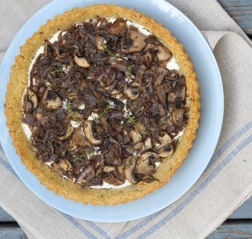 Ingredients
Base
Filling
1 red onion, finely sliced
1 tablespoondried thyme Add to basket
150g mushrooms, sliced
1 tablespoongarlic, minced
200g low-fat cottage cheese
2 tablespoonlow-fat yoghurt
1/2 lemon, zested
salt and pepper
Foodie Facts
One serving of this super food offers a significant amount of folate, a mineral vital for healthy cell growth and red blood cells. Vitamin E, a powerful antioxidant, is also plentiful in quinoa.
Method
Preheat oven to 180°C. Grease a removable bottom fluted tart pan.
To make tart base, place quinoa and stock in a small saucepan and bring to a gentle boil. Cover and cook over a low heat for 10-15 minutes or until all liquid has been absorbed. Remove from heat, fluff with a fork and let cool for 10 minutes.Then mix with eggs, parmesan and season with salt and pepper.
Transfer mixture to prepared pie dish and gently press mixture evenly into the dish, including the sides. This is best done by covering with baking paper and using your hands, then use a small glass to roll and press the mixture evenly.
Bake tart crust for 15 minutes, or until just starting to brown.Remove from heat and set aside.
To make filling, heat a non-stick frypan over low-medium heat.Spray with oil, add onions and thyme and cook for 5 minutes, stirring regularly.Add mushrooms and garlic and cook for another 5 minutes.
Season with salt and pepper.Remove from heat and set aside.
In a separate bowl, blend cottage cheese, yoghurt, lemon zest and salt and pepper.
Spread cheese mixture over base of tart, top with mushroom mixture and bake for 20-30 minutes.
Rest for 5 minutes before serving.
Thanks to the weigh it up team for this georgeous recipe.