NUT BUTTER ENERGY BALLS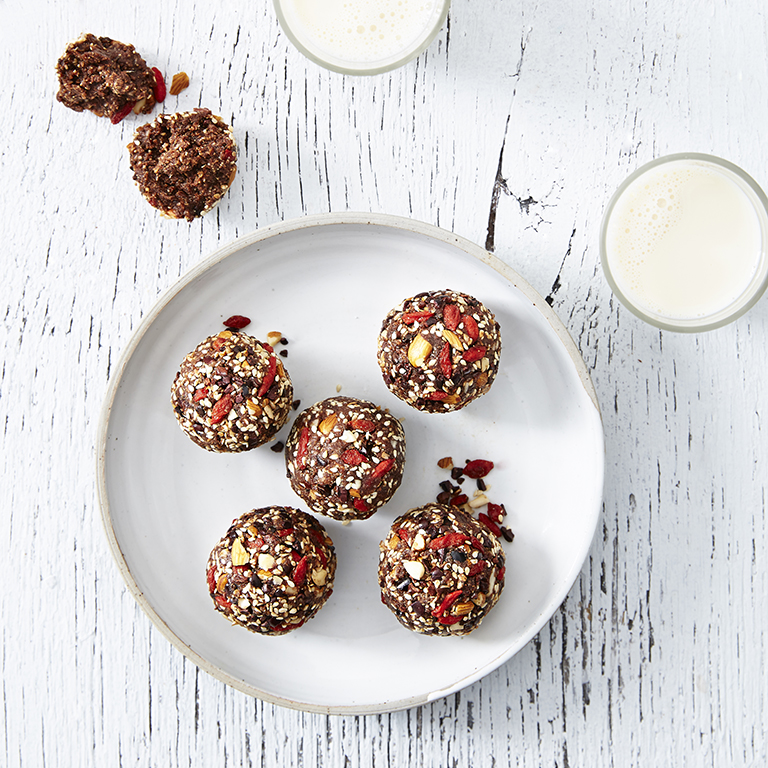 Ingredients
320g/'Öîcup fresh medjool dates, deseeded
40g/ ½ cup rolled oats*
50g/ ½ cup oat bran*
45g/ ½ cup desiccated coconut
30g/ ¼ cup raw cacao powder
300g/ ½ cup Almond/Almond and Chia butter
a little water to mix if needed
½ cup chopped almonds
½ cup raw cacao nibs
½ cup sesame seeds
½ cup goji berries
30g protein powder (optional)
* as a gluten free option you can replace the rolled oats and oat bran with 50g/ 1 cup puffed quinoa
Foodie Facts
Foodie Facts
Energy balls are an easy, quick and delicious snack.
Method
Blend the dates, puffed quinoa, cacao and coconut in a food processor until the mixture resembles bread crumbs and there are no large pieces of dates left.
Place the mixture into a large bowl and add the nut butter and protein powder(if using) mixing until everything is well combined, if needed add more water.
Portion into 12 balls using your hands.
Lightly wet your hands and roll the balls in the chopped almonds, cacao nibs, goji berries and sesame seeds, and store in the fridge until needed. They last for about 7 days.
Recipe by Royal Nut Company.
Makes 12 portions