FROZEN BANANA AND MACADAMIA SMOOTHIE BOWL WITH COCONUT CHIA PUDDING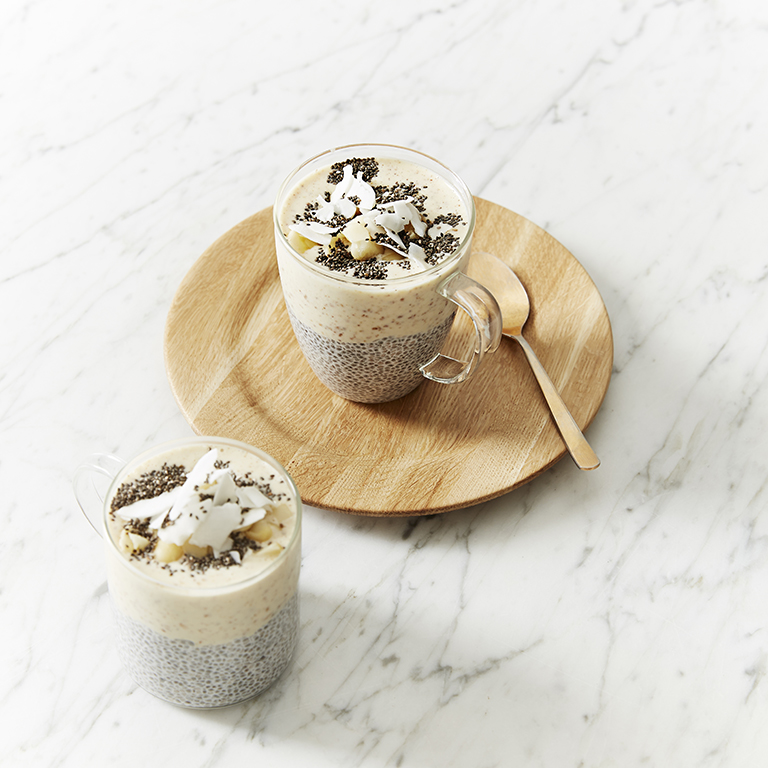 Ingredients
80g/ 1 cup chia seeds
250g/ 1 cup coconut milk
125ml/ ½ cup water
1 medium banana
2 tbsp/50g macadamia paste
80g or 1/3 cup greek yogurt
80g or 1/3 cup milk or non-dairy milk such as soy or almond milk
15g/ 1 Tbsp coconut flakes
125g/ 1 medium banana, sliced
25g/ ¼ cup macadamias chopped
10g/ 1 Tbsp chia seeds
Foodie Facts
Macadamias are an excellent source of minerals such as calcium, iron, magnesium, manganese and zinc.
Method
Mix the chia seeds with the coconut milk and water. Put the mixture into a covered container and set aside in the fridge for 3 hours or overnight.
Chop the banana into small pieces and place in the freezer overnight.
Once frozen, transfer the banana into a blender along with the macadamia paste and greek yogurt,blend until smooth, if needed use a dash of milk to help loosen the mixture. You should end up with a semi-frozen yoghurt consistency.
Spoon the chia pudding into serving dishes, and follow with the smoothie.
Garnish decoratively with the coconut flakes, banana slices, chia seeds and the chopped macadamias.
Enjoy!
Recipe by Royal Nut Company.
Serves 1-2