MAFTOUL SALAD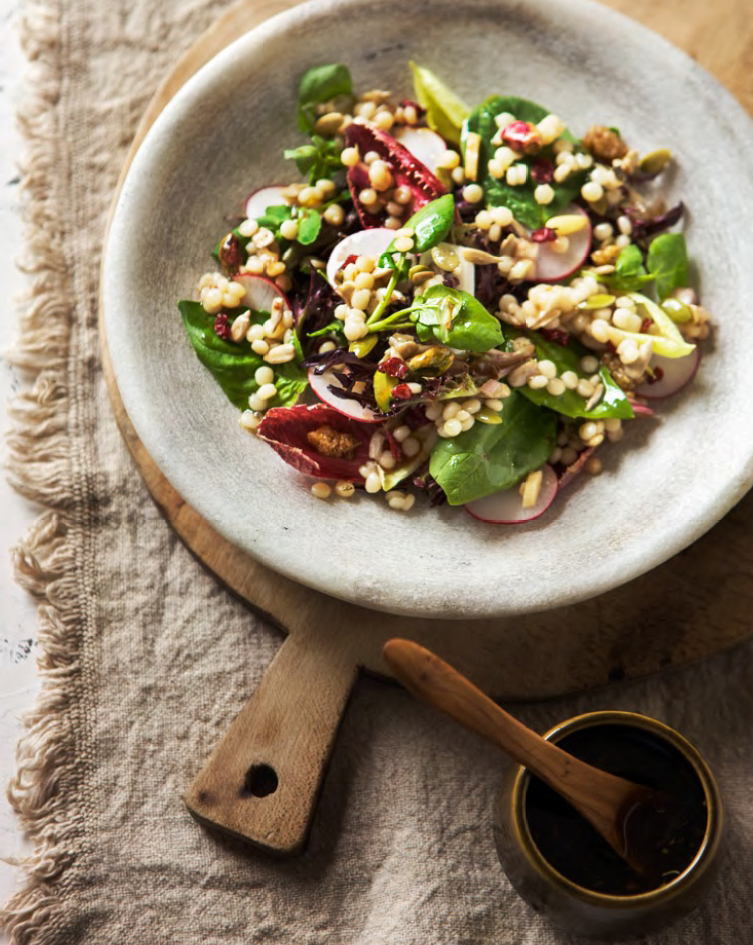 Ingredients
1 X 400g bag maftoul (substitute pearl couscous)
1 tbs avocado oil
2 tbs hibiscus finishing vinegar
2 tbs lemon juice
1 tbs fig balsamic vinegar
½ tbs crushed garlic
1 tbs dried mint
½ bag Archie's blend 2 (Oasis Bakery)
1 red onion, finely sliced
½ bunch radishes, washed and sliced
Salad leaves as required, washed and dried
Sea salt
Pepper
Handful fresh basil leaves
Foodie Facts
ARCHIE'S BLEND 
1 tbs Sunflower kernels
1 tbs Pumpkin kernels
1 tbs Barberries
1 tbs Mulberries
1 tbs Pine Nuts
1 tbs Pistachio Kernels
1 tbs Slivered Almonds
Method
Bring the maftoul to a boil in plenty of salted water and simmer for 5 minutes; drain and set aside
In a large bowl, mix the avocado oil, hibiscus finishing vinegar, lemon juice, fig balsamic, pomegranate molasses, basil leaves, garlic and mint.
Add Archies's blend 2, radishes and onion.
Add the maftoul and toss together.
Fold through the salad leaves and the basil. Toss well to dress.
Serve with a sprinkle of Archie's blend 2.
Thank you to marvellousMarwa Makool for this amazing recipe
Copyright © 2013 Yallateef
Serves 4