VEGETARIAN OKRA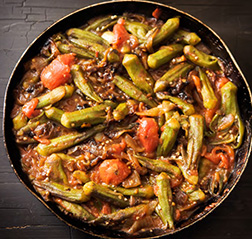 Ingredients
1kg fresh okra (or 1kg frozen okra, which you need to deep-fry briefly, and add after the tomato)
2 onion, slivered
4 cloves garlic, finely sliced
500g fresh tomatoes, cut into quarters
4 tbs rice bran oil
1 cup tomato puree
½ tsp sea salt
½ tsp crushed black pepper
½ mixed spice (Baharat)
½ tsp maras chilli
Foodie Facts
Baharat is a wonderfully aromatic mix made from the finest quality spices. It can be added to meat and vegetable dishes for a flavoursome meal that will have everyone begging for seconds!
Method
Heat oil in a pan, add the onion and the garlic.
Add the okra and cook for 5 minutes, stirring occasionally.
Add the fresh tomato and the spices and cook for another 5 minutes.
Add the tomato puree, bring to a boil and cook for 2 minutes.
Serve hot or cold.
Thank you to marvellousMarwa Makool for this amazing recipe
Copyright © 2013 Yallateef