BELGIAN DARK CHOCOLATE AND NUT BARK WITH GOJI BERRIES AND SEEDS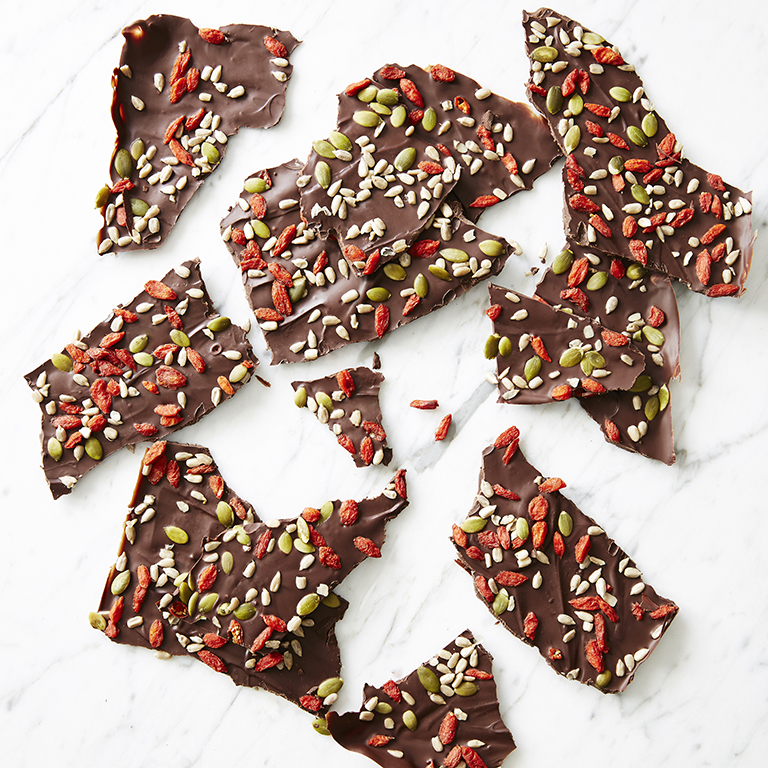 Ingredients
450g/ 2 ½ cup dark chocolate buttons
65g/¼ cup ABC butter
45g/ ¼ cup goji berries
35g/ ¼ cup sunflower seeds
35g/ ¼ cup pumpkin seeds
1 tsp himalayan pink salt
Foodie Facts
Made from the seed of the cocoa tree, it is one of the best sources of antioxidants on the planet. Studies show that dark chocolate can improve health and lower the risk of heart disease.
Method
Half fill a small pot with water and bring to the boil
Meanwhile combine the ABC butter and chocolate in a small heatproof bowl that will fit over the pot.
Melt the chocolate with the ABC butter in the bowl over the pot and stir to combine.
Once the mixture is fully combined, pour the mixture onto a baking tray lined with parchment paperand let cool for 10 minutes.
After the mixture has cooled slightly, sprinkle over the seeds, pink salt and goji berries and place thetray into the fridge to cool completely.
Once the sheet has set, break into pieces and take a bite. Store in a sealed container in the fridgefor about 2 weeks.
Recipe by The Royal Nut Company.
Makes enough for 8 portions