CRANBERRY FLORENTINES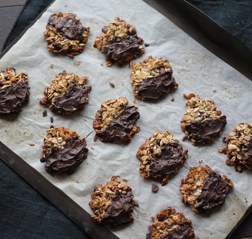 Ingredients
1 cup sunflower seeds
1 cup flaked almonds
½ cup cranberries, roughly chopped
2 tablespoon uncrystallised ginger*,finely chopped
½ cup rolled oats
¼ cup wholemeal spelt flour
¼ tablespoon allspice
1/8 tablespoon cardamom
¾ cupNorbu (natural sweetener)
1/3 cup honey
100g dark cooking chocolate
Foodie Facts
Our whole dried cranberries are a delicious addition to any recipe with their sweet and tart taste. Mix them into your muesli, salads, muffins and any cooked dish!
Method
Preheat oven to 170°C and line a baking tray with baking paper.
Combine seeds, almonds, cranberries, ginger, oats, flour and spices in a medium sized bowl.
Heat Norbu and honey in a small saucepan and cook over low to medium heat for 5 minutes, then stir through dry ingredients until combined.
Place heaped tablespoon measures of mixture on prepared baking tray and shape into rounds, flattening mixture out to an even thickness. Slightly wet your hands to prevent mixture from sticking to them.
Bake for 12-15 minutes.
Cool on baking trays for 5 minutes before transferring to a wire rack to cool.
Melt chocolate in a metal bowl over a saucepan of boiling water then spread a thin layer over half of the biscuit.
Cool, then store in an airtight container.
*This looks like the normal crystallised dried ginger but without the sugar coating.
Thanks to the weigh it up team for this georgeous recipe.
MAKES 28