NUTTY CHOCOLATE BITES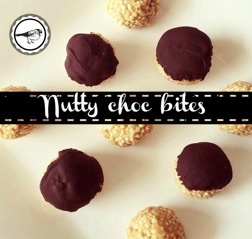 Ingredients
½ cup almond butter
1 cup puffed quinoa
3 tablespoons rice malt syrup {melted}
½ teaspoon pure vanilla extract
Foodie Facts
If you're a nut butter lover you will fall for our Almond Butter! It's creamy, smooth and the gorgeous flavour will make you melt! 'ęIt is sugar, dairy and gluten FREE!
Method
Melt your rice malt syrup in a saucepan over low heat. Set aside to cool.
Pop all ingredients into w bowl and mix until combine.
Line a baking tray with baking paper.
Roll walnut sized balls and pop onto the tray. Continue to roll balls until all mixture has been used.
Pop tray into the fridge and leave for 15 minutes.
Enjoy!
*for added delicious-ness, roll your balls into melted chocolate. Make sure you use a dark chocolate at least 70% cocoa. Pop in the fridge for 10 minutes, then enjoy!
Thank you to the beautiful Sheridan Buchanan for this wonderful recipe.