POMEGRANATE JEWELLED RICE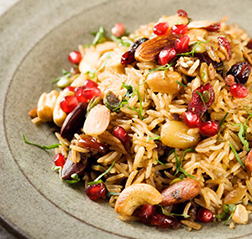 Ingredients
100g barberries
100g cashews, unsalted roasted
100g slivered almond
100g raw pistachio kernel
100g pumpkin seed kernels
100g sunflower seed kernels
100g dried apricots, thinly sliced
1 tbs yallateef
1 tsp zhug
2 tbs pomegranate molasses
2 tbs rice bran oil
2 cups basmati rice, rinsed
1 pinch saffron threads
1 tsp sea salt
100g fresh pomegranate seeds (seasonal; more barberries can be used when these are not available)
Foodie Facts
Pistachios are high in fibre, iron and folate to keep you functioning at your peak.
Method
Warm the oil in a large saucepan; add the nuts and the dried fruit, and stir until the nuts begin to colour.
Add the yallateef, pomegranate molasses and zhug, stir.
Add the rice and mix well.
Add 4 cups boiling water, salt and saffron threads, stir.
Simmer for 5 minutes and then remove from the heat.
Cover until all the liquid is absorbed (about 20 minutes).
Transfer to a serving plate or bowl.
Garnish with fresh pomegranate seeds.
Serve on its own, with yoghurt or to accompany a meat dish.
Thank you to marvellousMarwa Makool for this amazing recipe
Copyright © 2013 Yallateef