FISH TAJINE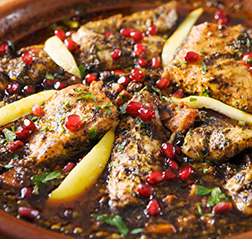 Ingredients
6 fish filets (your choice), each around 200g and cut in half. I often mix them, and use salmon, rockling and trevally.
1 carrot sliced in 2cm lengths
1 tsp charlic
½ tsp sweet paprika
½ tsp dried turmeric
½ tsp sea salt
½ tsp ras el hanout
½ tsp fish spice
½ tsp zaatar
½ tsp sumac
½ preserved lemon, halved again, lengthways
1 tbs fresh coriander, chopped
1 tbs flat-leaf parsley, chopped (leaves only)
1 tbs yallateef
1 tbs spicy garlic dip
1 tbs rice bran oil
1 tbs hazelnut meal
Garnish:
Fresh pomegranate seeds or dried barberries
Flat-leaf parsley, leaves only
Preserved lemon rind, sliced finely
Foodie Facts
RAS EL HANOUT
With a subtle but full flavour, the warm and spicy aroma makes it a worthy addition to many meals.
Method
To prepare the fish, rub rock salt and res el hanout into the pieces and refrigerate for 3-4 hours. Remove, rinse and set aside to dry.
Place the tajine base on a stove top on low and add the oil. When it is warm, add the carrot and the yallateef and cook for 3 minutes.
Add the coriander and the parsley and combine well.
Slcie the flesh from the rind of both segments of preserved lemon and set the rind aside to slice finely as a garnish; add the flesh to the mixture.
Add spices, charlic and spicy garlic dip.
Add 1 cup water, and then the hazelnut meal to thicken.
Cover, bring to a gentle boil and add the fish. Cover and cook for 15 minutes. Or place the tajine, lid on, in an oven at 160 C for 30 minutes.
Before serving, garnish with fresh pomegranate seeds, parsley and preserved lemon rind.
Thank you to marvellousMarwa Makool for this amazing recipe.
Copyright © 2013 Yallateef
Serves 6