NEW YORK MOCHA CHEESECAKE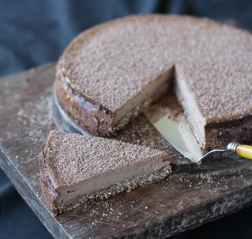 Ingredients
Base:
Filling:
1 cup low fat Greek yoghurt
250g light Philadelphia cream cheese
2 eggs
1 tablespoon cornflourAdd to basket
4 tablespoon VitariumMocha Drinking Mix
2 tablespoon NorbuorNatvia(Natural Sweetener)
10g dark chocolate, finely grated
Foodie Facts
Hazelnuts are packed full of antioxidants, such as vitamin E, copper and manganese
Method
Spray a springform cake tin with oil. To prepare the base, process oats to a crumb, and with motor running add egg and oil. Add dates, sweetener and nuts and pulse to combine. Don't over process, you want some texture in the base.Press firmly into tin and chill for 30 minutes.
Preheat oven to 150 C.To prepare the filling, blend yoghurt, cheese, eggs, cornflour, sweeteners and drinking chocolate until smooth.Gently pour over chilled base and bake for 1 hour, or until the sides have set and the centre is still a little wobby. Turn oven off and leave cake for an hour. Chill for 2 hours and sprinkle with chocolate before serving.
Thanks to the weigh it up team for this georgeous recipe.
Serves 12