SPICED CAULIFLOWER PILAF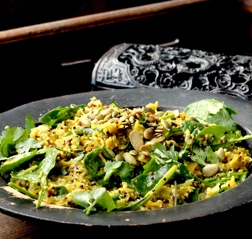 Ingredients
3 Jasmine and Pear infuser tea pods
1 shallot, finely chopped
1 clove garlic, minced
1 tablespoon grated ginger
1 tablespoon ground coriander
½ tablespoon turmeric
½ cup brown rice, rinsed
¼ cup of mixed quinoa (red, white and black), well washed
½ tablespoon salt
150g cauliflower, very finely chopped (you can grate or chop in food processor)
50g baby spinach leaves or rocket
15g pumpkin seeds, toasted
Foodie Facts
When cooking with grain-like foods such as rice, quinoa, amaranth and legumes make sure you give them a good rinse before cooking to remove any residues or foreign matter.
Method
Infuse tea pods in 1½ cups of boiling water and set aside.
Heat a non stick saucepan over medium heat, spray with oil and add shallot, garlic, ginger, coriander and turmeric and cook for a few minutes. Add rice, quinoa and infused tea.
Add another ½ cup of boiling water to pods and set a side for a few minutes.
Bring rice mixture to the boil, cover and cook until almost all liquid has evaporated.
Add remaining half cup of tea and cauliflower, cover and continue to cook until steam holes appear in the rice. Remove from heat, add spinach and stand for 5 minutes. Serve with pumpkin seeds.
Thanks to the weigh it up team for this georgeous recipe.
SERVES 2 as a main| 4 as a side dish