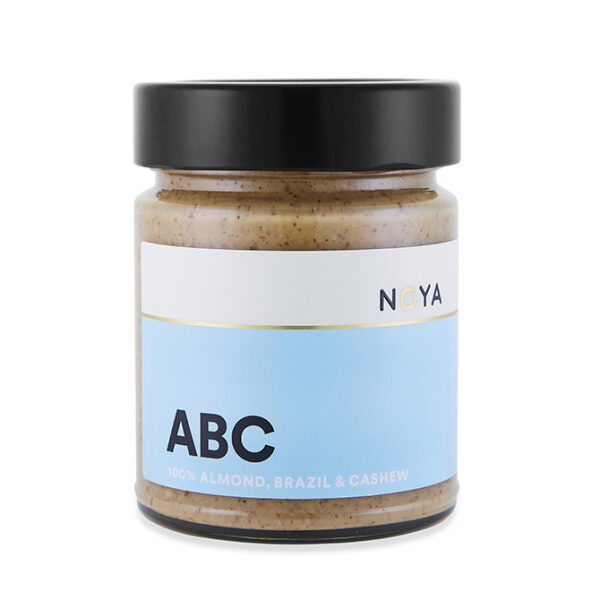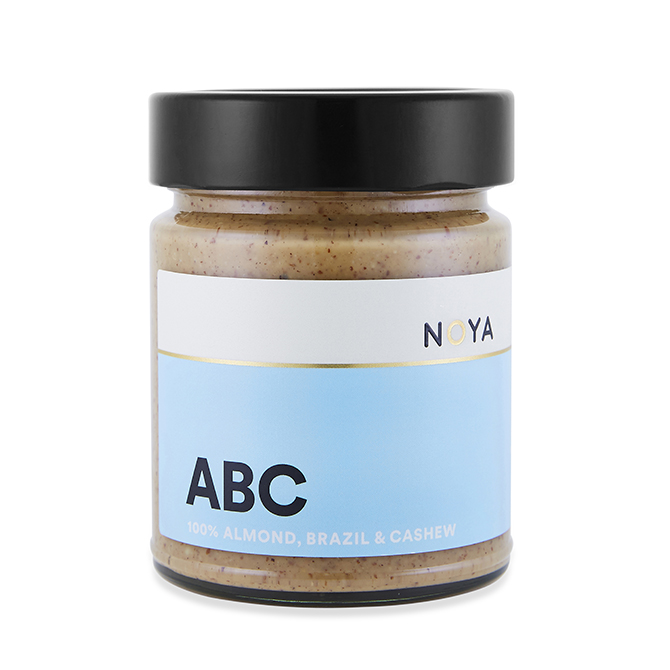 ABC Noya Nut Butter
From: $9.00
A perfect combination of smooth and crunch; Noya Nut Butter ABC will give you something to sing about!Hand-picked almonds, brazil nuts, and cashews, lightly dry-roasted to perfection, then crushed and blended together to create a deliciously addictive, naturally sweet spread. You'll love the velvety, smooth texture from the AB, the crunch from the C. And the rhythm kick in when you sing, "1, 2, 3" and "do, re, mi".
Nutritional Info

| | | |
| --- | --- | --- |
| GRAMS PER SERVE | 30 | |
| SERVES PER PACK | 125 | |
| | PER SERVE | PER 100g |
| ENERGY | 816kJ | 2720kJ |
| PROTEIN | 7.6g | 25.3g |
| FAT, TOTAL | 17.4g | 58g |
| SATURATED | 1.5g | 5.1g |
| CARBOHYDRATE | 1.8g | 6g |
| SUGARS | 1.3g | 4.2g |
| SODIUM | 2.4mg | 8mg |

Ingredients

Almonds, cashews, brazil (lightly dry roasted). Loved, crushed, naturally. Nothing but nuts, so you can load up your spoon without the trip to guilt town.

Health Benefits

To keep our bodies healthy, minds happy, we need 30g of nuts every day. That's just one heaped tablespoon. With the benefits of three powerful nuts, you'll enjoy the nutritional benefits three-fold. Your daily dose of vitamin E, for beautiful hair, nails, and skin, and a powerfully healthier body. Some use vitamin E in skincare, we prefer to eat ours. Featuring the antioxidant selenium to protect you from free radical damage and maintain your immune system. Protein for growth and development of all nutters, big and small, naturally low in sugar and sodium, too. Nutrients like magnesium, iron, and zinc for stronger bones, a boost of energy, tough immune systems, and good brains. Packed with selenium too, to keep boys bits healthy and working like they should. NOYA Tick List All natural Gluten free Dairy free Paleo friendly No added sugar, salt, oil, additives or preservatives Vegan friendly Trans fat free Contains protein for keeping bones and muscles strong Rich in healthy monounsaturated fat Naturally low in sugars and sodium Rich in antioxidant vitamin E Source of magnesium, selenium, iron, and zinc Don't just spread the nut; scoop it.1 heaped tbsp. contains: 7.6g Protein (15% of an adult's recommended dietary intake) 6.0mg Vitamin E (60% of an adult's recommended dietary intake) 66mg Magnesium (21%of an adult's recommended dietary intake) 1.4mg Iron (12% of an adult's recommended dietary intake) 1.3mg Zinc (11% of an adult's recommended dietary intake) 7.2ug Selenium (10% of an adult's recommended dietary intake)

Country Of Origin

Made in Australia using local and imported ingredients

Storage Instructions

Store in a cool dry area away from direct sunlight

How To Use

Straight from your spoon, or alternatively... Dolloped on veggie burgers. Mixed in pesto sauce. Stirred through your yoghurt. Smothered across pancakes. Substituted for butter. So, everywhere and anything.