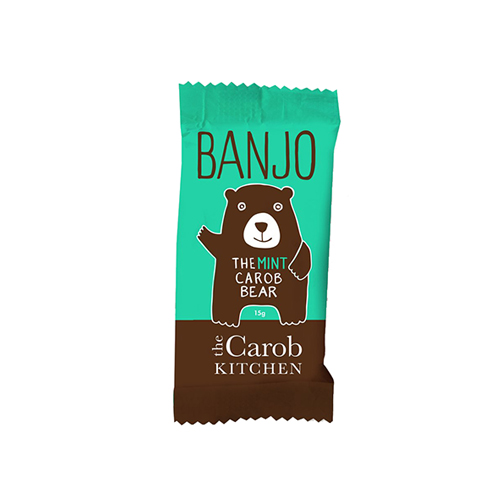 Banjo The Mint Carob Bear
$1.50
The Carob Kitchen brings you Australia's Mint Carob Bar (Bear) made with Australian grown Carob and real Cacao Butter.Made from Bean to Bar (Bear), we have added only the purest of natural ingredients to blend a mild yet naturally sweet, smooth minty carob bar. Store in a cool, dry place. Between 15 and 22 degrees celsius.
Nutritional Info

| | | |
| --- | --- | --- |
| GRAMS PER SERVE | 15 | |
| SERVES PER PACK | 1 | |
| | PER SERVE | PER 100g |
| ENERGY | 371kJ | 2470kJ |
| PROTEIN | 1.3g | 8.9g |
| FAT, TOTAL | 6.5g | 43.6g |
| SATURATED | 4.1g | 27.2g |
| CARBOHYDRATE | 6.2g | 41.6g |
| SUGARS | 5.1g | 33.7g |
| SODIUM | 22mg | 146mg |

Ingredients

Milk solids, Cocoa Butter, Organically grown Carob powder (25.5%), Natural Vanilla extract, Emulsifiers, (GMO free) Soy Lecithin, Pure Essential Peppermint Oil.

Health Benefits

Carob Milk Bar range containsNO Palm Kernel Oiland is grown and made in Australia. Not to mention all the other benefits. No added sugar- naturally sweet from the sweetness in our carob beans. Gluten free- for those who choose to go without. Caffeine free- a stimulant often the cause of migraines and addictions. Theobromine free- a stimulant often the cause of migraines and addictions. Made with real Coco Butter- free from hydrogenated fats.No Palm Kernel Oil. Made with Pure Essential Mint Oil Carob Bar range is also: Rich in antioxidants High in fibre High in Protein Contains vitamin A. B, B2, B3 and D Preservative FREE

Country Of Origin

Product of Australia

Storage Instructions

Store in a cool dry place

How To Use

Our Banjo Mint Carob Bears taste so good on their own, we recommend you do just that. However if you feel the need to bake, remember to melt the carob milk bar using the Bain Marie method (a bowl over a saucepan of boiling water). Simply dip fresh fruit into the melted carob and leave to set. Carob Mint Brownies are a pleasant alternative to rich chocolate.