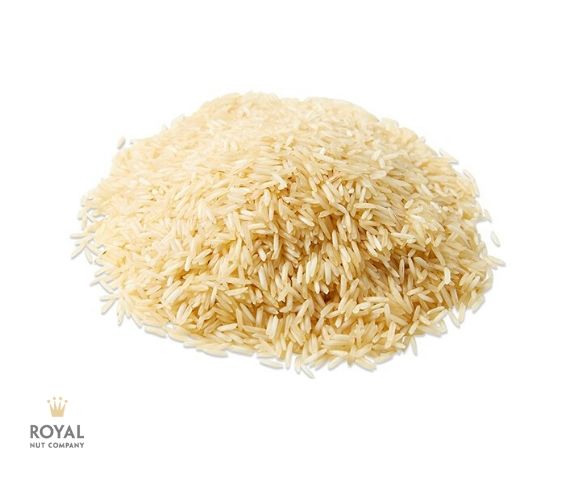 Basmati rice
From: $3.80
Basmati rice is the perfect rice for any dish that needs its grains to remain intact and separate after cooking. Basmati grains double in length when cooked and don't get sticky. A traditional white rice, it has had the husk, bran and germ of the grain removed, leaving a bright white grain that has a longer shelf life and stores better than other varieties (like brown rice.) Its irresistible aroma and delicate taste make it perfect for dishes with chicken, fish and vegetables, in salads, and as a base for most Asian dishes.
Nutritional Info

| | | |
| --- | --- | --- |
| GRAMS PER SERVE | | |
| SERVES PER PACK | | |
| | PER SERVE | PER 100g |
| ENERGY | 559kJ | 1118kJ |
| PROTEIN | 3.3g | 6.6g |
| FAT, TOTAL | 1.3g | 2.6g |
| SATURATED | 0.05g | 0.1g |
| CARBOHYDRATE | 33.3g | 66.6g |
| SUGARS | 0.05g | 0.1g |
| SODIUM | 2.5mg | 5mg |

Ingredients

Rice

Health Benefits

Basmati is gluten-free, low in fat and the lowest GI rating of all long grain rice.

Country Of Origin

Product of Pakistan

Storage Instructions

Store in a cool dry area away from direct sunlight

How To Use

Easy to cook using a rapid boil, absorption or even better, in a handy rice cooker! If using the absorption method, use one and a half cups of water to every cup of rice. For rapid boiling, just ensure the rice is always adequately covered as the excess water is simply drained off after cooking. It is always important to rinse the grains first. Soaking for 30 minutes before cooking will help give your final product a more uniform texture. The grains take approximately 12 - 14 minutes to cook, and one cup of basmati rice will produce three cups once it is cooked.