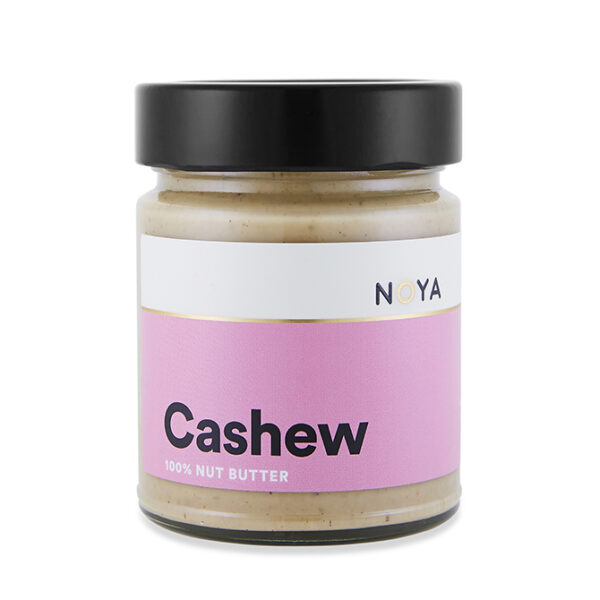 Cashew Noya Nut Butter
From: $9.00
A velvety, delicious dream that will have you coming back for more.The best hand-picked, naturally creamy cashews, dry-roasted to golden perfection, then crushed and blended. It'll give you a spread softer than your winter cashmere, healthier than your Friday night habits.
BBD: 02/05/23
Nutritional Info

| | | |
| --- | --- | --- |
| GRAMS PER SERVE | 30 | |
| SERVES PER PACK | 125 | |
| | PER SERVE | PER 100g |
| ENERGY | 762kJ | 2540kJ |
| PROTEIN | 6.2g | 20.6g |
| FAT, TOTAL | 14.6g | 48.6g |
| SATURATED | 2.9g | 9.8g |
| CARBOHYDRATE | 5.8g | 19.3g |
| SUGARS | 2g | 6.7g |
| SODIUM | 2.7mg | 9mg |

Ingredients

100% Cashews (lightly Roasted Cashews). Loved, crushed, naturally. Nothing but nuts, so you can load up your spoon without the trip to guilt town.

Health Benefits

Cashews are naturally low in sodium and sugars, and packed full of vitamins, minerals, and antioxidants. A source of protein and healthy monounsaturated fats to keep you feeling full and curb naughty cravings. Cashews are a vegan's dream, with a number of vital minerals. Iron transports oxygen around the body to produce energy for moving bodies. Zinc makes skin and nails beautiful, and keeps immune systems healthy. Copper protects the body against cell damage and free radicals; vital for antioxidant defense and energy production. Magnesium and copper maintains strong and healthy jar-opening bones. NOYA Tick List All natural Gluten free Dairy free Paleo friendly Vegan friendly No added sugar, salt, oil, additives or preservatives Source of protein Rich in healthy fats Trans fat free Source of plant Iron and Zinc for vegetarians Contains magnesium Contains antioxidant Copper Naturally low in sugars and sodium Don't just spread the nut; scoop it.1 heaped tbsp. contains: 6.2g Protein (12% of an adult's recommended dietary intake) 63mg Magnesium (20% of an adult's recommended dietary intake) 1.7mg Iron (14% of an adult's recommended dietary intake) 1.7mg Zinc (14% of an adult's recommended dietary intake) 0.5mg Copper (17% of an adult's recommended dietary intake)

Country Of Origin

Made in Australia from imported ingredients

Storage Instructions

Store in a cool dry area away from direct sunlight

How To Use

Straight from your spoon, or alternatively... A substitute for cream. Mixed in with your curry sauce. Smothered across whole grain toast. Shaken with your salad dressing. Blended with icing for a proper cake finisher.