BANANA CHIA PUDDING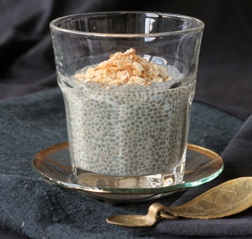 Ingredients
2 tablespoon Vitarium Banana Drinking Mix
1 tablespoon boiling water
¼ cup chia seeds Add to basket
1 cup skim milk
1 tbs shredded coconut, toasted
Foodie Facts
Chia seeds are one of the highest known plant sources of essential omega-3 fats, providing a positive anti-inflammatory effect in the body, beneficial for heart and joint health.
Method
Dissolve Vitarium in boiling water and stir through chia seeds and milk.
Divide between two glasses and refrigerate for at least 3 hours until set.
Sprinkle toasted coconut over puddings to serve.
Thanks to the weigh it up team for this healthy recipe.
SERVES 2