CYPRIOT GRAIN SALAD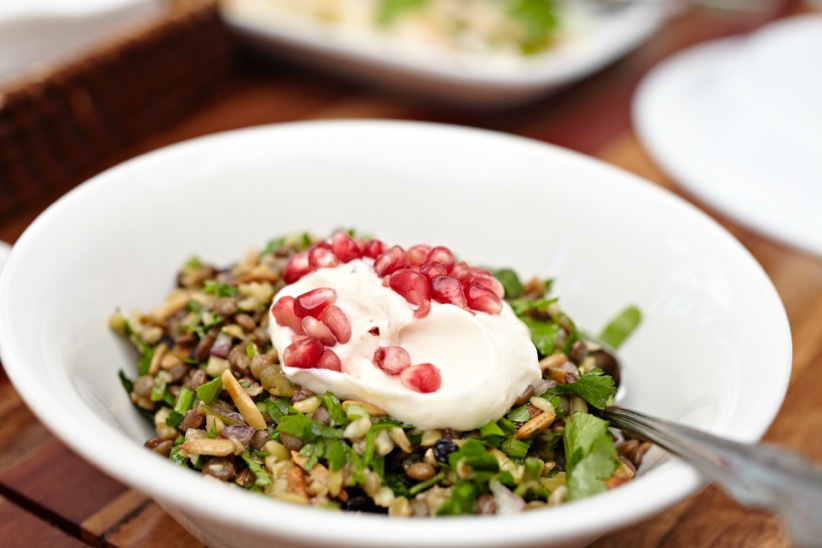 Ingredients
1 bunch coriander, shredded
1⁄2 bunch parsley, shredded
1⁄2 red onion, finely diced
1 cup freekeh, (or cracked wheat)
1⁄2 cup du puy lentils
2 tbsp. toasted pumpkin seeds
2 tbsp. toasted slivered almonds
2 tbsp. toasted sunflower seeds
2 tbsp. baby capers
1⁄2 cup currants
1 tbsp. red wine vinegar
3 tbsp. extra virgin olive
Sea salt to taste
1 cup thick Greek yoghurt
1 tsp. cumin seeds toasted and ground
1 tbsp. honey
1 pomegranate, deseeded
Foodie Facts
FOODIE FACT
Freekeh is 100% natural; Free from GMO, colouring, additives and preservatives; Low GI and high in fibre. This tiny flavoursome grain is the perfect addition to your diet. Easy to cook (like rice) on the stove, in the microwave or rice cooker! Use it in your soups, salads, casseroles risotto, puddings, pastry, etc.
Method
Blanch freekeh and du puy lentils separately in boiling water until both just cooked. Drain well and allow to cool.
Mix the yoghurt, cumin and honey until combined.
In a medium bowl place the coriander, parsley, red onion, freekeh, lentils, toasted nuts and seeds, capers, currants, red wine vinegar and olive oil. Mix well, season to taste.
Place into serving dish and top with cumin yoghurt and pomegranate seeds.
Copyright © Travis McAuley
Thank you to the talented Travis McAuley for this delicious recipe.
SERVES 4 PEOPLE