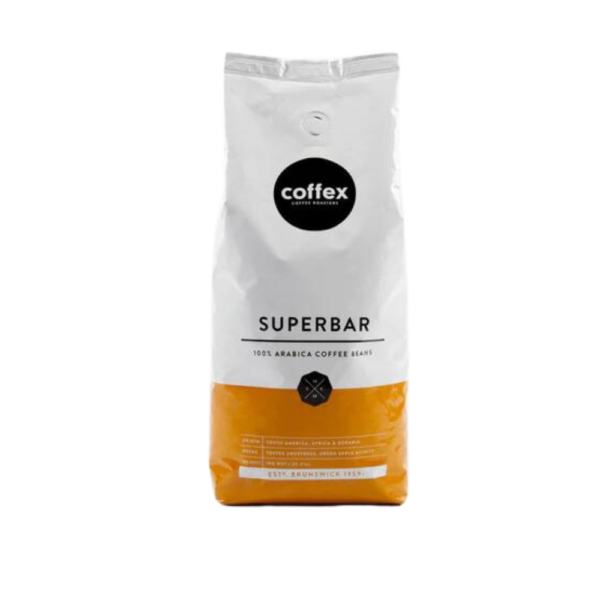 Coffex – Superbar beans
From: $16.50
Coffex – Superbar beans. This blend has been Carefully selected and blended for optimum flavour, and it works amazingly well in everything from an espresso to a latte. Beautifully crafted for the most discerning cafes and coffee connoisseurs, our Superbar will simply impress.
Imagine a well-rounded, syrupy coffee with a toffee sweetness and green apple acidity, and you've got this blend in one. A rich and satisfying coffee that is very smooth in taste and full in flavour. Coffex – Superbar beans is Coffex most popular coffee to date.
Mix of Central American, South American, African & Oceania Arabica.
*Royal Nut Company has joined forces with Coffex, a well-loved Brunswick coffee institution. We are extremely excited about this new step on our food journey and we can't wait for you to be a part of it. You can find all of our Coffex range online and in our Brunswick store.
Nutritional Info

| | | |
| --- | --- | --- |
| GRAMS PER SERVE | | |
| SERVES PER PACK | | |
| | PER SERVE | PER 100g |
| ENERGY | | |
| PROTEIN | | |
| FAT, TOTAL | | |
| SATURATED | | |
| CARBOHYDRATE | | |
| SUGARS | | |
| SODIUM | | |

Country Of Origin

African & Oceania Arabica