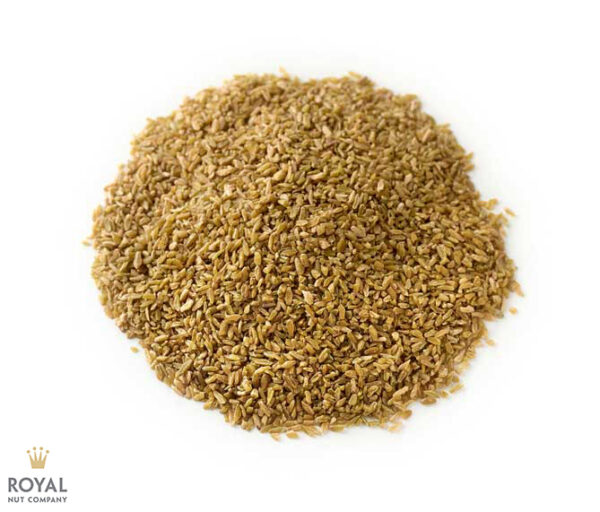 Cracked freekeh
$7.00
Popular with ancient Egyptians, Greenwheat Freekah has been rediscovered as one of the newest superfoods and the 'it' food in modern restaurants! The grains of "green" wheat are picked while still soft and fresh, then roasted. This unique process seals in the delicious taste of the young wheat along with its pristine nutritional value. You'll enjoy a nutty taste with a subtle smoky flavour and a tender texture. Freekeh can be used in place of many other grains for an increased protein kick.
Nutritional Info

| | | |
| --- | --- | --- |
| GRAMS PER SERVE | 50 | |
| SERVES PER PACK | 20 | |
| | PER SERVE | PER 100g |
| ENERGY | 735.5kJ | 1471kJ |
| PROTEIN | 6.3g | 12.6g |
| FAT, TOTAL | 0.05g | 0.1g |
| SATURATED | 0.05g | 0.1g |
| CARBOHYDRATE | 36g | 72g |
| SUGARS | 0.05g | 0.1g |
| SODIUM | 3mg | 6mg |

Ingredients

Wheat

Health Benefits

This young green grain contains higher levels of vitamins and minerals than its matured wheat counterpart. Its robust protein power puts it in the same league with superfoods like quinoa, amaranth and farro. With a high fibre content and low GI status, it keeps you feeling fuller for longer.

Country Of Origin

Produced in Australia

Storage Instructions

Store in a cool dry area away from direct sunlight

How To Use

Microwave Method: Place 4 cups of boiling water, 2 cups Freekah, 1 tsp salt and 1 tblsp olive oil (optional) in a deep microwave bowl. Cover and cook on high for 25 minutes. Remove from microwave and allow to stand for 5 minutes, covered, while grains swell and soften further. Absorption Method: Place 5 cups cold water, 2 cups Freekah, 1 tsp salt, and 1 tblsp olive oil (optional) into a large saucepan. Bring to boil, stirring ocassionally. Cover the saucepan with tightly fitting lid. Lower heat and simmer for 25-30 minutes. Ensure all water is absorbed and grains are tender. Once cooked, it can be eaten simply as a delicious and healthy side dish, used to make unforgettable salads, casseroles, thrown into soups, moulded into veggie burgers, kofte, risotto or anything else your imagination can conjure!