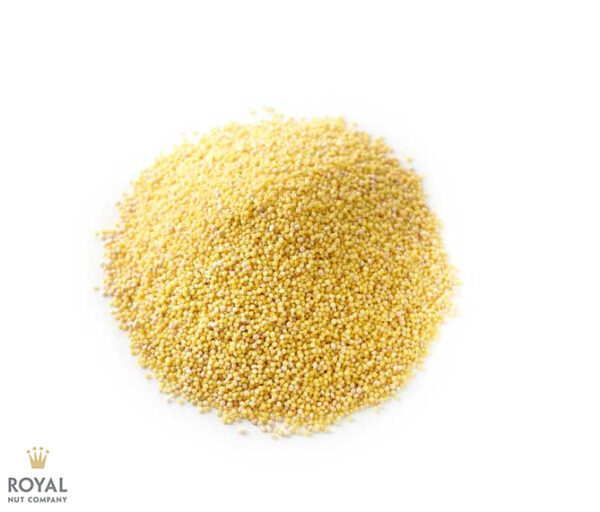 Hulled millet
$6.10
The ancient seed returns! Millet is thought to have originated in North Africa, specifically Ethiopia, where it has been consumed since prehistoric times. Millet is still an extremely important food staple in many African countries. Hulled Millet has had its inedible husk removed and is ready to cook as is. Extremely versatile, millet can be used as a base for both sweet and savoury foods. Try making it into a delicious porridge with milk and sugar, topping it with your favourite nuts or dried fruits. Millet makes a terrific side dish substitute for rice or couscous and is also excellent when chilled and tossed through salads, especially tabouli!
Nutritional Info

| | | |
| --- | --- | --- |
| GRAMS PER SERVE | 50 | |
| SERVES PER PACK | 20 | |
| | PER SERVE | PER 100g |
| ENERGY | 750kJ | 1500kJ |
| PROTEIN | 5.5g | 11g |
| FAT, TOTAL | 2.1g | 4.2g |
| SATURATED | 0.35g | 0.7g |
| CARBOHYDRATE | 32.2g | 64.4g |
| SUGARS | 0.7g | 1.4g |
| SODIUM | 2.5mg | 5mg |

Ingredients

Millet

Health Benefits

This round, yellow seed is more commonly considered a grain, and can be fluffy like rice, or creamy like mashed potatoes, depending on the cooking method used. Gluten-free, its mildly sweet, nutty flavour forms a valuable part of a gluten-free diet by providing number of valuable nutrients. It is easy to digest and keeps your insides happy!

Country Of Origin

Produced in Australia

Storage Instructions

Store in a cool dry area away from direct sunlight

How To Use

To cook, simply rinse and bring three parts water or stock to the boil and add one part millet. Return to the boil then simmer covered for around twenty-five minutes. If you prefer a creamier texture, stir through additional small amounts of water every now and then. To create a stronger, more full-bodied flavour, simply toast the millet in a dry pan before adding to the water or stock.