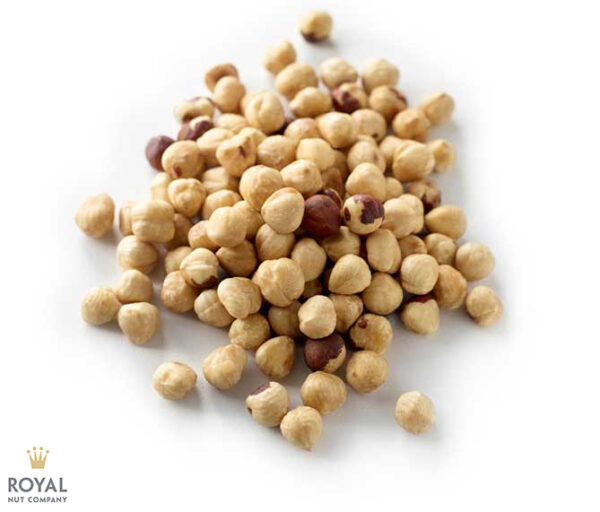 Dry Roasted Hazelnut
From: $8.50
Dry Roasted Hazelnut. We carefully roast these little beauties until they are a warm golden colour and they develop a rich, full, slightly toasty flavour. The roasting process removes most of the skin. NEW 5KG BULK PRICE AVAILABLE!
Nutritional Info

| | | |
| --- | --- | --- |
| GRAMS PER SERVE | 50 | |
| SERVES PER PACK | 5 | |
| | PER SERVE | PER 100g |
| ENERGY | 1365kJ | 2730kJ |
| PROTEIN | 7.7g | 15.4g |
| FAT, TOTAL | 30.95g | 61.9g |
| SATURATED | 1.35g | 2.7g |
| CARBOHYDRATE | 2.65g | 5.3g |
| SUGARS | 2.3g | 4.6g |
| SODIUM | 1.5mg | 3mg |

Ingredients

Hazelnuts

Health Benefits

Hazelnuts are incredibly nutritious! They provide fibre and protein to keep you feeling full for longer. They are high in healthy monounsaturated fats and packed full of antioxidants, such as vitamin E, copper and manganese, which can help protect the body against free radical damage.Vitamin E is also important in maintaining healthy skin, hair and nails.Hazelnuts contain iron which helps move oxygen around the body and folate which is essential for new growth and particularly important during and around pregnancy.They are a source of B vitamins which are important in proper cell and energy metabolism. Copper plays a vital role in protecting against and improving some forms of arthritis, slowing down the overall aging process, and even stimulating brain cells. Copper also works to increase immunity, protecting against common sicknesses.

Country Of Origin

Made in Australia from local and imported ingredients

Storage Instructions

Keep refrigerated before and after opening to ensure long-lasting freshness

How To Use

These are superb as a snack or better still, throw them in a salad or experiment in cooked dishes and baking – fantastic in a cheesecake crust, or chopped and stirred through a creamy gelato!