LINDY'S SUPER FOOD MUESLI SLICE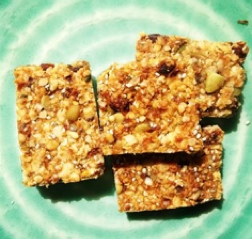 Ingredients
2 cups rolled oats
1 cup quinoa flakes
2 eggs
1 1/2 cups organic coconut oil
8 pitted dates (soak in water beforehand for best results)
2 tlbsp hemps seeds
2 tlbsp chia seeds
2 tlbsp pumpkin seeds
1 tlbsp sunflower seeds
2 tlbsp goji berries
4 tlbsp rice malt syrup (or agave/organic honey/maple syrup)
Foodie Facts
Try our goji berries or organic incaberries for an antioxidant hit.
Method
– Preheat oven to 160 degrees C
– Combine oats, quinoa flakes, chia, hemp, sunflower and pumpkin seeds in a large mixing bowl.
– Roughly chop goji berries and add to mixing bowl
– Give the eggs and dates a quick whiz in the blender, until dates are finely chopped. Add to mixing bowl.
– Melt coconut oil and rice malt syrup over low heat. (I just scrape the oil from the jar with a knife and then measure in cup).
– Once the coconut oil and rice malt syrup is completely melted, add to the mixing bowl and combine well.
– Pat ingredients onto a baking tray, level top with a spatula
– Cook in oven for 15 to 20 minutes, or until it just turns a light golden brown.
– Cool for 15 minutes
– Slice and store in airtight container in the fridge
– Mmmmm, delicious…..
Thank you to the talented Melinda Cook for this yummy recipe.